Senior Director of Character Initiatives and Culture – Elementary, Brilla Schools Network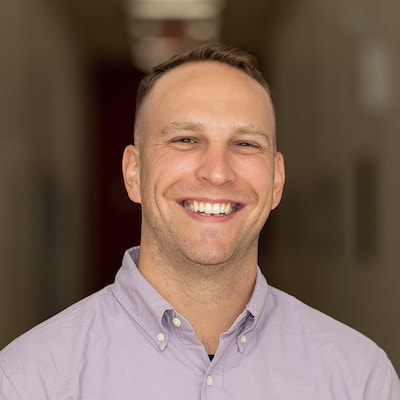 This world demands the qualities of youth; not a time of life but a state of mind, a temper of the will, a quality of the imagination, a predominance of courage over timidity, of the appetite for adventure over the life of ease.
- Robert F. Kennedy
Dan Faas serves as the senior director of character initiatives and culture for the Brilla Schools Network. Previously, Dan served as principal of St. Charles Borromeo School in Harlem. Dan began his career teaching middle school English as an ACE Teaching Fellow in Mobile, Alabama, and later taught high school English in Santiago, Chile. He also worked as the admissions coordinator for the Mary Ann Remick Leadership Program at the University of Notre Dame, leading the program's efforts to recruit and grow a cohort of diverse and dynamic Catholic school leaders across the country. He then moved to New York City to serve as the curriculum and staff development associate for the Archdiocese of New York before serving as principal. Dan grew up near Ann Arbor, Michigan, and is a proud midwesterner. He earned a bachelor of arts degree in journalism from Michigan State University, a master of education degree from the University of Notre Dame, and a master of arts in educational leadership from the University of Notre Dame. In his spare time, Dan enjoys running, biking, swimming, and finding out new recipes to cook.
Aaron Brenner
❘
Adriana Lira
❘
Ale Slingerland
❘
Alejandro Uribe
❘
Alexandra Cohill
❘
Ana Vasquez
❘
Andrew Ketchum
❘
Ashley Del Rosario
❘
Billy Bludgus
❘
Brett Chappell
❘
Cathy Costigan
❘
Christina Reyes
❘
Christy Mencia-Penalo
❘
Claire Dwyer
❘
Colleen Vaughn
❘
Dan Faas
❘
Daniel Palombo
❘
David Morales
❘
Derek Lyssy
❘
Douglas Minson
❘
Elizabeth Reckart
❘
Elliot Hachey
❘
Emilia Chornay
❘
Emily Brooks
❘
Emily Gilbride
❘
Fr. Mark Haydu
❘
Jack Morgan
❘
Jacob Coonradt
❘
Jenny Garcia
❘
Jenny Kibrick
❘
Jessica Lovinsky
❘
Jolleen Wagner
❘
Juliana Odame-Arhin
❘
Katie Hernandez Akers
❘
Kayla Keller
❘
Kellie Pairan
❘
Kenneth Burchfiel
❘
Kevin Hanratty
❘
Lena McGovern
❘
Logan Amster
❘
Luanne D. Zurlo
❘
Margaret Rippe
❘
Maria Valencia
❘
Mariela Gratero
❘
Mark Kreider
❘
Mary Grace Lewis
❘
Matt Salvatierra
❘
Olivia Lang
❘
Rachelly Crime
❘
Reyes Claudio
❘
Ruby Amezquita
❘
Shanelle County
❘
Stephanie Frias
❘
Stephanie Montero
❘
Stephanie Saroki de García
❘
Tess Lane
❘
Trevor Sorensen
❘
Yeime Valle
❘