Director of Character Initiatives – Elementary, Brilla Schools Network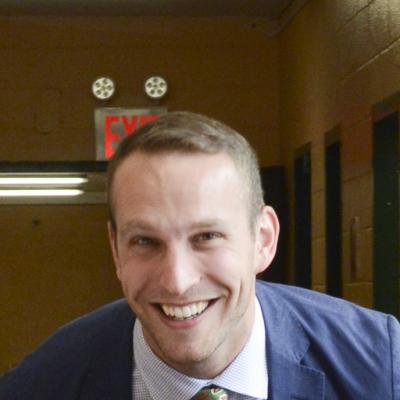 Don't let anybody, anybody convince you this is the way the world is and therefore must be. It must be the way it ought to be.
- Toni Morrison
Dan Faas serves as the director of character initiatives for the elementary schools in the Brilla Schools Network. Most recently, Dan served as principal of St. Charles Borromeo School in Harlem. Dan began his career teaching middle school English as an ACE Teaching Fellow in Mobile, Alabama, and later taught high school English in Santiago, Chile. He also worked as the admissions coordinator for the Mary Ann Remick Leadership Program at the University of Notre Dame, leading the program's efforts to recruit and grow a cohort of diverse and dynamic Catholic school leaders across the country. He then moved to New York City to serve as the curriculum and staff development associate for the Archdiocese of New York before serving as principal. Dan grew up near Ann Arbor, Michigan, and is a proud midwesterner. He earned a bachelor of arts degree in journalism from Michigan State University, a master of education degree from the University of Notre Dame, and a master of arts in educational leadership from the University of Notre Dame. He lives in Harlem with his dog Oberon.
Aaron Brenner
❘
Adriana Lira
❘
Alexa Bonilla
❘
Alexandra Cohill
❘
Brett Chappell
❘
Christina Reyes
❘
Christy Mencia-Penalo
❘
Colleen Vaughn
❘
Dan Faas
❘
David Morales
❘
Dulce Salinas
❘
Elizabeth Reckart
❘
Emilia Chornay
❘
Emily Brooks
❘
Emily Gilbride
❘
Fr. Mark Haydu
❘
Gisell Sierra
❘
Isabella Gadapee
❘
Jacob Coonradt
❘
Jen Gowers
❘
Jessica Lovinsky
❘
Jolleen Wagner
❘
Juliana Odame-Labi
❘
Kayla Keller
❘
Kelly O'Brien
❘
Kelsey LaVigne
❘
Kevin Hanratty
❘
Leonard Francisco
❘
Luanne D. Zurlo
❘
Margaret Rippe
❘
Maria Valencia
❘
Mark Kreider
❘
Mary Catherine Lancaster
❘
Mary Grace Lewis
❘
Matt Salvatierra
❘
Michelle Lacouture Perry
❘
Peter Katcher
❘
Reyes Claudio
❘
Ruby Amezquita
❘
Shanelle County
❘
Stephanie Frias
❘
Stephanie Saroki de García
❘
Tess Lane
❘
Trevor Sorensen
❘
Ty Redmond
❘
William Bludgus
❘
Yeime Valle
❘