Chief Development Officer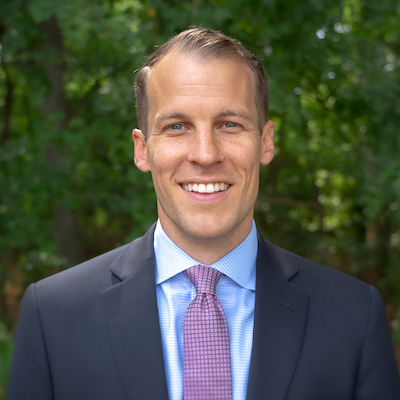 So, being affectionately desirous of you, we were ready to share with you not only the gospel of God but also our own selves, because you had become very dear to us.
- 1 Thessalonians 2:8
Derek Lyssy is the chief development officer for Seton Education Partners. He supports all of Seton's schools and programs through strategic development efforts. Derek joined Seton after he served as the director of the office of stewardship and development for the Diocese of Tulsa, where he led all aspects of diocesan fundraising. Prior to his arrival in Tulsa, he served the Archdiocese of Chicago as a parish campaign director for the To Teach Who Christ Is Campaign– a $400 million capital campaign for parishes and schools. Prior to his time in the Archdiocese, he spent four years as a missionary with FOCUS (the Fellowship of Catholic University Students). Derek graduated from Benedictine College in Atchison, KS with his bachelor's in business administration. He holds a master's degree in philanthropy and development from St. Mary's University in Minnesota and is a CFRE (Certified Fund Raising Executive). He resides in Tulsa, Oklahoma with his wife and four children.
Aaron Brenner
❘
Adriana Lira
❘
Ale Slingerland
❘
Alejandro Uribe
❘
Alexandra Cohill
❘
Ana Vasquez
❘
Andrew Ketchum
❘
Ashley Del Rosario
❘
Billy Bludgus
❘
Catherine Birri
❘
Cathy Costigan
❘
Christina Reyes
❘
Christy Mencia-Penalo
❘
Claire Dwyer
❘
Colleen Vaughn
❘
Dan Faas
❘
Daniel Palombo
❘
David Morales
❘
Derek Lyssy
❘
Elizabeth Reckart
❘
Elliot Hachey
❘
Emilia Chornay
❘
Emily Brooks
❘
Emily Gilbride
❘
Fr. Mark Haydu
❘
Jack Morgan
❘
Jacob Coonradt
❘
Jenny Garcia
❘
Jenny Kibrick
❘
Jessica Lovinsky
❘
Jill Limongi
❘
Jolleen Wagner
❘
Juliana Odame-Arhin
❘
Katie Hernandez Akers
❘
Kayla Keller
❘
Kellie Pairan
❘
Kenneth Burchfiel
❘
Kevin Hanratty
❘
Laura Barron
❘
Lena McGovern
❘
Logan Amster
❘
Luanne D. Zurlo
❘
Margaret Rippe
❘
Maria Valencia
❘
Mariela Gratero
❘
Mark Kreider
❘
Mary Grace Lewis
❘
Matt Salvatierra
❘
Olivia Lang
❘
Rachelly Crime
❘
Reyes Claudio
❘
Ruby Amezquita
❘
Shanelle County
❘
Stephanie Frias
❘
Stephanie Montero
❘
Stephanie Saroki de García
❘
Tess Lane
❘
Trevor Sorensen
❘
Yeime Valle
❘