Chief of Character Initiatives, Brilla Schools Network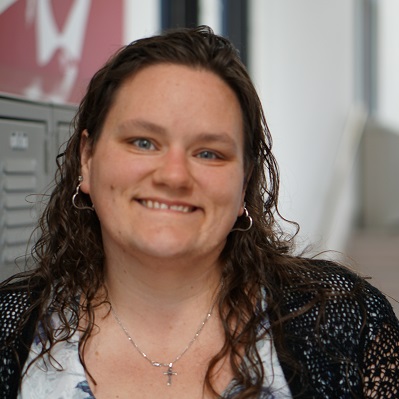 I must enter into all that I do with a spirit of love.
- San Miguel Febres Cordero
Jolleen Wagner is chief of character initiatives for the Brilla Schools Network. After serving for three years as a Lasallian Volunteer and teacher at the San Miguel School – Gary Comer Campus in Chicago, Jolleen became the Lasallian Volunteers' associate director in 2007 and director in 2011. She was responsible for the vision and guidance of this faith-based, long-term volunteer program focused on service to at-risk populations through education and social services. In addition to her work for Lasallian Volunteers, Jolleen has been called upon by the De La Salle Christian Brothers to evaluate existing and develop new formation programs, lead and design immersion trips, and present and facilitate at various events focused on faith, service, and community around the world. As a member of the International Council of Young Lasallians and the chair of the Regional Young Lasallian Committee, she leads at the international and regional levels to illuminate and invigorate the Young Lasallian voice for the future of the mission of the De La Salle Christian Brothers. Jolleen, a native of Green Island, New York, graduated with a bachelor of arts in English from Siena College in 2004, where she was honored in 2014 with the Franciscan Spirit Award, a Distinguished Alumni Award.
[Former Employee] Jeff Kerscher
❘
[Former Employee] Robert Alexander
❘
Aaron Brenner
❘
Alexa Bonilla
❘
Amanda Zingone
❘
Brett Chappell
❘
Cecilia Gallagher
❘
Christina Reyes
❘
Dan Faas
❘
Danielle Schirripa
❘
David Morales
❘
Elizabeth Reckart
❘
Emilia Chornay
❘
Emily Brooks
❘
Emily Gilbride
❘
Fr. Mark Haydu
❘
Gisell Sierra
❘
Isabella Gadapee
❘
Jen Gowers
❘
Jolleen Wagner
❘
Kayla Keller
❘
Kelsey LaVigne
❘
Korleen Cosgrove
❘
Leonard Francisco
❘
Luanne D. Zurlo
❘
Margaret Nieto
❘
Maria Valencia
❘
Mark Kreider
❘
Mary Catherine Lancaster
❘
Matt Gaimari
❘
Matt Salvatierra
❘
Michael Carbone
❘
Michelle Lacouture Perry
❘
Navil Acevedo
❘
Peter Katcher
❘
Rachel Marchand
❘
Reyes Claudio
❘
Ruby Amezquita
❘
Sarah Meagher
❘
Shanelle County
❘
Stephanie Frias
❘
Stephanie Saroki de García
❘
Tess Lane
❘
Trevor Sorensen
❘
Yeime Valle
❘