Chief of Schools, Brilla Schools Network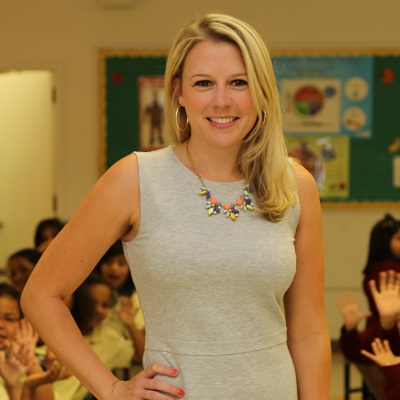 Love takes up where knowledge leaves off.
- Thomas Aquinas
Kelsey LaVigne serves as chief of schools for the Brilla Schools Network, providing leadership and direction, as well as facilitating collaboration between network leadership and principals to ensure that Brilla's mission and program is proliferated with fidelity across Brilla's five campuses. Kelsey was a founding administrator at the flagship campus, Brilla College Prep, where she was charged with establishing and implementing the vision for school culture and family engagement. She was promoted to assistant principal and soon after became principal. She transitioned to the chief of schools role to lead the efforts of Brilla's first replication. Prior to joining Brilla, Kelsey worked as a fifth-grade math teacher at Bedford Stuyvesant Collegiate, an Uncommon School, while also serving as the school culture lead and an instructional coach. Her first two years of teaching were under the umbrella of Teach for America as a 2009 Corp Member, during which she also received her master's degree in Education from Hunter College, Teacher U. Kelsey completed her undergraduate studies at the University of Southern California, earning a bachelor of arts degree in business administration with an emphasis in leadership development.
Aaron Brenner
❘
Adriana Lira
❘
Ale Slingerland
❘
Alejandro Uribe
❘
Alexa Bonilla
❘
Alexandra Cohill
❘
Ana Vasquez
❘
Andrew Ketchum
❘
Ashley Del Rosario
❘
Billy Bludgus
❘
Brett Chappell
❘
Cathy Costigan
❘
Christina Reyes
❘
Christy Mencia-Penalo
❘
Claire Dwyer
❘
Colleen Vaughn
❘
Dan Faas
❘
Daniel Palombo
❘
David Morales
❘
Derek Lyssy
❘
Dulce Salinas
❘
Elizabeth Reckart
❘
Elliot Hachey
❘
Emilia Chornay
❘
Emily Brooks
❘
Emily Gilbride
❘
Fr. Mark Haydu
❘
Gisell Sierra
❘
Isabella Gadapee
❘
Jackson Morgan
❘
Jacob Coonradt
❘
Jen Gowers
❘
Jennifer Garcia
❘
Jenny Kibrick
❘
Jessica Lovinsky
❘
Jolleen Wagner
❘
Juliana Odame-Labi
❘
Kayla Keller
❘
Kellie Pairan
❘
Kelly O'Brien
❘
Kelsey LaVigne
❘
Kenneth Burchfiel
❘
Kevin Hanratty
❘
Leonard Francisco
❘
Logan Amster
❘
Luanne D. Zurlo
❘
Margaret Rippe
❘
Maria Valencia
❘
Mariela Gratero
❘
Mark Kreider
❘
Mary Catherine Lancaster
❘
Mary Grace Lewis
❘
Mary Molloy
❘
Matt Salvatierra
❘
Michelle Lacouture Perry
❘
Olivia Lang
❘
Peter Katcher
❘
Rachelly Crime
❘
Reyes Claudio
❘
Ruby Amezquita
❘
Shanelle County
❘
Stephanie Frias
❘
Stephanie Montero
❘
Stephanie Saroki de García
❘
Tess Lane
❘
Trevor Sorensen
❘
Ty Redmond
❘
Yeime Valle
❘