Manager, El Camino at Brilla College Prep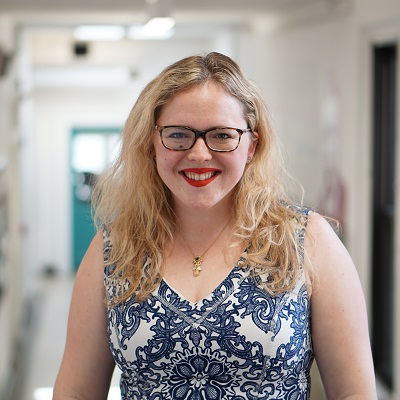 It is not enough to love the young; they must know that they are loved.
- St. John Bosco
Sarah Meagher joined the Seton team in 2014 as a founding member of Seton Teaching Fellows. After her year as a fellow, she accepted the position of art teacher at Brilla College Prep and served as the specials content lead. Sarah has worked hard to pursue Seton's mission of faith and education for underserved children, and is excited to continue the tradition of excellence in her role as El Camino leader for the Brilla College Prep elementary and middle school campuses. Sarah has a bachelor of arts degree from Creighton University and a master's degree in education. She loves spending time outdoors with her husband and visiting family in Ireland and South Dakota.
[Former Employee] Jeff Kerscher
❘
[Former Employee] Robert Alexander
❘
Aaron Brenner
❘
Alexa Bonilla
❘
Amanda Zingone
❘
Brett Chappell
❘
Cecilia Gallagher
❘
Christina Reyes
❘
Dan Faas
❘
Danielle Schirripa
❘
David Morales
❘
Elizabeth Reckart
❘
Emilia Chornay
❘
Emily Brooks
❘
Emily Gilbride
❘
Fr. Mark Haydu
❘
Gisell Sierra
❘
Isabella Gadapee
❘
Jen Gowers
❘
Jolleen Wagner
❘
Kayla Keller
❘
Kelsey LaVigne
❘
Korleen Cosgrove
❘
Leonard Francisco
❘
Luanne D. Zurlo
❘
Margaret Nieto
❘
Maria Valencia
❘
Mark Kreider
❘
Mary Catherine Lancaster
❘
Matt Gaimari
❘
Matt Salvatierra
❘
Michael Carbone
❘
Michelle Lacouture Perry
❘
Navil Acevedo
❘
Peter Katcher
❘
Rachel Marchand
❘
Reyes Claudio
❘
Ruby Amezquita
❘
Sarah Meagher
❘
Shanelle County
❘
Stephanie Frias
❘
Stephanie Saroki de García
❘
Tess Lane
❘
Trevor Sorensen
❘
Yeime Valle
❘