Claire Mealey is a current Seton Teaching Fellow. She serves as a Reading Interventionist at Brilla College Prep Middle School with 5th and 6th graders. She is from Minneapolis, Minnesota and studied Elementary Education at Benedictine College. She also is trained in the Catechesis of the Good Shepherd program and assists in weekly classes with the Missionaries of Charity in the Bronx. She enjoys long distance running, black coffee, Great British Baking Show, and hanging out with her lovely community. 
---
Claire, you came in after majoring in Education at Benedictine College; how do you think that prepared you for your time as a Seton Teaching Fellow? Has being a fellow met your expectations of what teaching would be like? 
Coming in with a lot of experience and teaching knowledge definitely prepared me for my role as a Fellow. From the beginning, I felt ready to get into the classroom and embrace the challenge of teaching in a new environment. During the school day, I get to teach small groups as a reading interventionist. I had fairly limited experience teaching in a special education setting, so that was the first major learning curve. Teaching in El Camino has been an adventure, too. Every disciple comes in at a different place in his or her faith life, so you have to be creative and flexible to reach every child. I've learned a lot about how the Holy Spirit really does do most of the evangelization work. I just do my best to be a loving presence, and then the teaching comes from Him.
In what ways would you say you've most challenged your students to grow?
Many of the students I work with either during the school day or in El Camino lack motivation and the desire to improve. I've tried to push them out of the mindset of mediocrity, and into a growth mindset. I try to find ways for them to feel success and build on that more and more. I've seen some of my students really transform and feel confident about their work instead of putting in the bare minimum.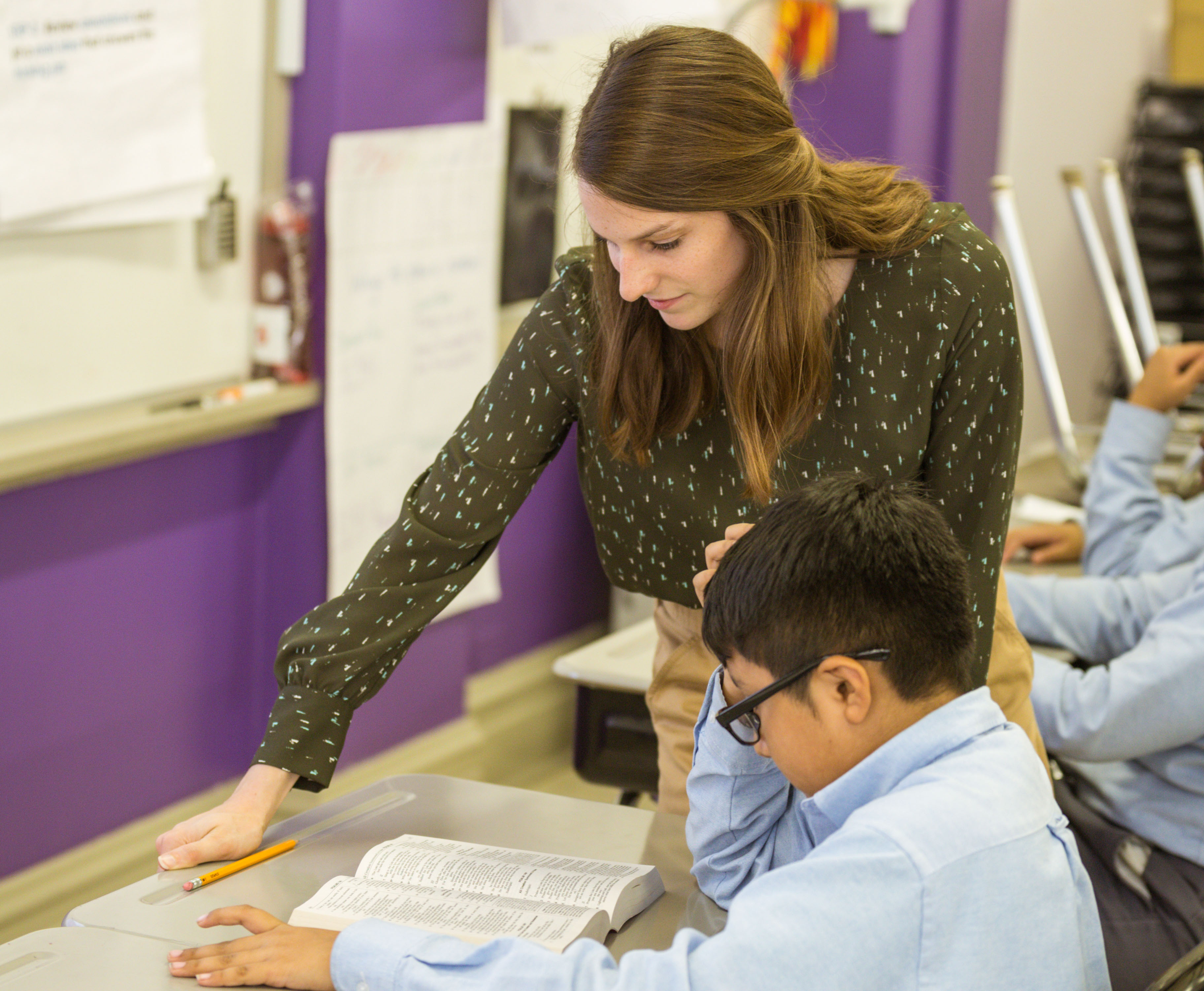 Can you tell us about one of the most rewarding moments you've had as a Fellow?
In El Camino, I teach a 5th grade boys class and a lot of my students have significant challenges during the school day. They can be difficult to teach sometimes, but at the same time I am moved by how deep their love is for God. One day during a lesson on God's Providence, all of my boys shared personal stories about how God had taken care of them in their life. Later in the year, a few of those boys signed up to receive sacraments for the first time ever after we learned about our relationship with God, sin, and God's grace. They recognized God's goodness and decided that they wanted to share in it.
What ways have you felt most able to integrate your faith into the classroom?
In El Camino, it's been so incredible to see how the program can be a place of refreshment for our kids after the long school day. I try to focus on teaching the disciples how to pray and modeling virtue, because those are the habits that can they can take with them into their school day. My favorite moments with our middle schoolers have been the discussions about topics that are really important to them, like family, friendships, and morality. That's where I've found the most opportunity to be able to lift up the truth in their lives.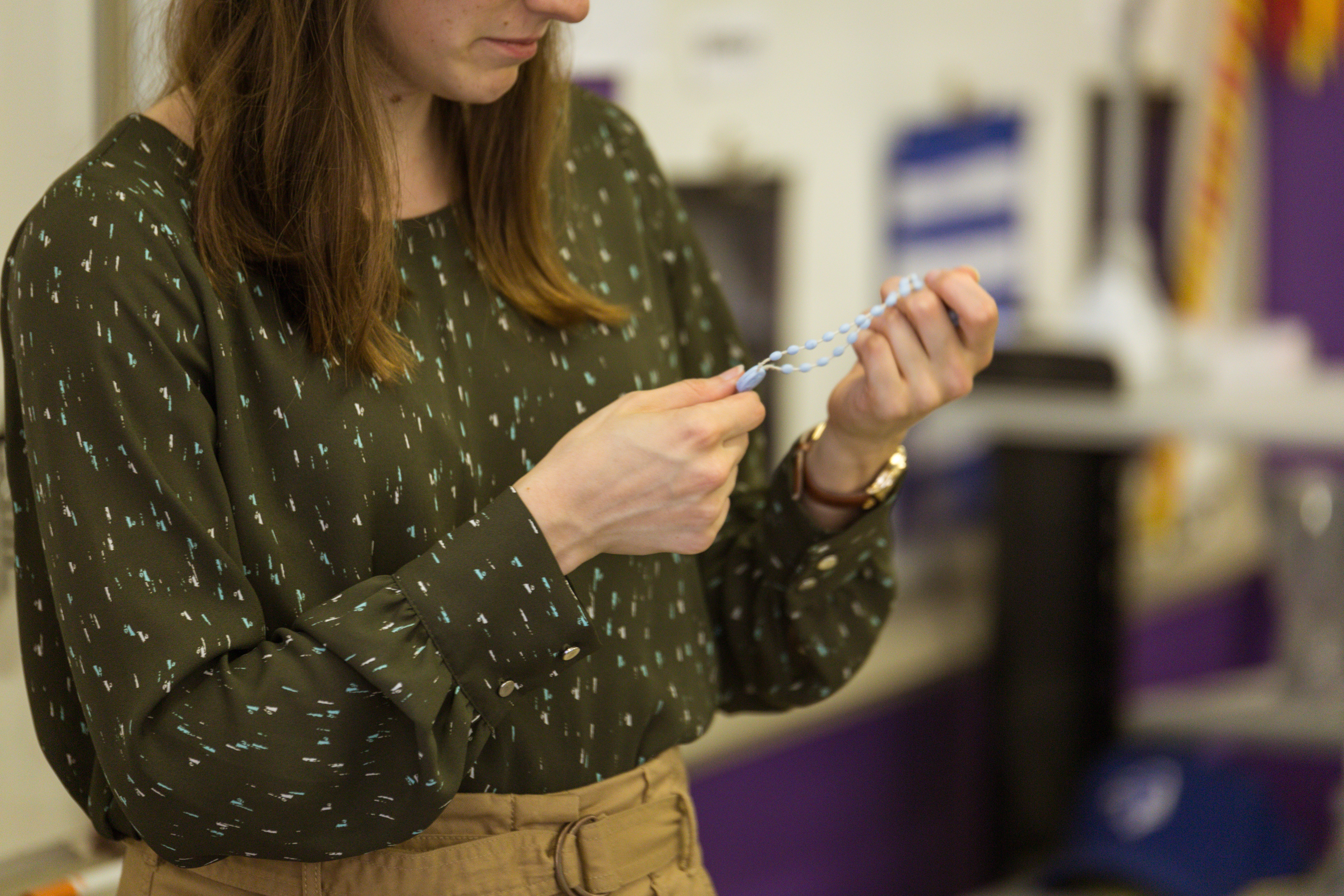 In what ways have you seen your own faith grow this past year?
I've become more aware of God's faithfulness and unchanging love. As I've had to experience hardship and seeing where I find it hard to surrender to Him, He's poured out all the more grace. Being a missionary has helped me recommit to making the Lord first in my life. Living in an environment that is full of so much dissatisfaction, I feel even more need to give my whole heart to God, who is the only One that can fulfill every desire.
We know you've made the decision to move back to your home state of Minnesota to teach at a Catholic school. That's incredible, congrats! Could you tell us a little about your journey to reach that decision and how being a Fellow has prepared you for that jump?! 
I knew coming into STF that this was just going to be a year commitment, and that I'd be returning back home to be with my family afterwards. I feel like after this year I am so much more prepared for adulthood and my first year as a full time teacher. Just the range of different experiences and situations I've had to navigate alone has really equipped me for whatever comes next year. Teaching at a Catholic school has been my dream for a long time, so I'm excited to take everything I've learned as a Fellow with me into this next adventure.
What are the things you'll miss most about being a fellow?
Community! I came into the year looking for intentional and strong friendships within community, and God delivered majorly on that desire. I will really miss friendships with my whole STF community, especially in my apartment. One of my favorite memories of community was on the night before a snow day, our house was pumped to find out the news and naturally we had a dance party to celebrate. As we wound down from all the excitement, we ended the night in community prayer. It was an experience of sisterhood I'll never forget!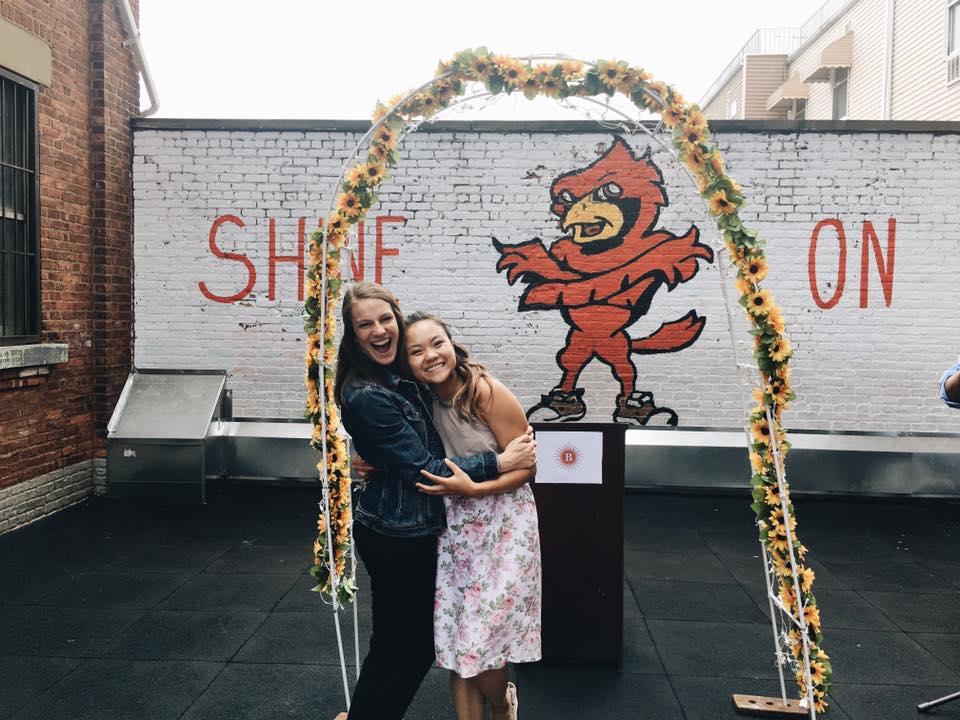 What would you say are the most valuable things that community has taught you that you're excited to integrate into whatever community God takes you to next year?
Community has taught me to be quick to apologize, faithful to my responsibilities, and give to others without counting the cost. Most of all, I've learned when I'm home to put aside the stresses of the day and be present to the people in front of me. I've experienced unconditional love from my community and I've also learned where I fall short of giving that love in return. I want to keep growing in this unconditional love as I leave and be present, especially to my family in this way.
If you could go back and do anything differently would you, and what would it be?
To begin the year by putting most of my focus on El Camino and daily prayer. Sometimes as a Fellow with so many highs and lows during the day, you can get caught up in what went wrong. What really helped me in the 2nd half of the year was to keep up my daily prayer schedule no matter what and put El Camino first. When I do that, I feel so much more at peace.
If there's anything you think people thinking about STF should know, what would it be?
This year is truly life-changing! Get ready for God to do some amazing work. Be open to whatever He wants of you, and He will not disappoint!