This post comes from STF Alumna Bailey Raymond who served with our 7th and 8th Cohort of Seton Teaching Fellows. Bailey was a founding Kindergarten Fellow at one of our North Bronx schools, Brilla Pax. In this reflection, she shares some insight surrounding perhaps the greatest impact our mission has: bringing students and families to the sacraments.
"Day by day the Lord added to their community." Acts 2:47
I first found out about Seton Teaching Fellows over three years ago. The aspect of the mission that pulled on my heart more than anything else was hearing stories about the beautiful children who would receive the sacraments and join the Church through our Catechism classes: El Camino. What was even more inspiring is the fact that children would go home and bring this gift to their families—our disciples bring prayer to the home and have even influenced their parents decision to be baptized and join the Church too. When I encountered this reality, it gave me chills (and still does to this day).
I think this really stuck with me because one of my best friends was received into the Catholic Church shortly before I encountered STF during college. Witnessing my good friend's journey re-ignited my love for the sacraments and gave me a new-found appreciation for those who convert to the Catholic Faith. My desire to bring children closer to Christ, especially through the sacraments, is what inspired my "yes" to Seton.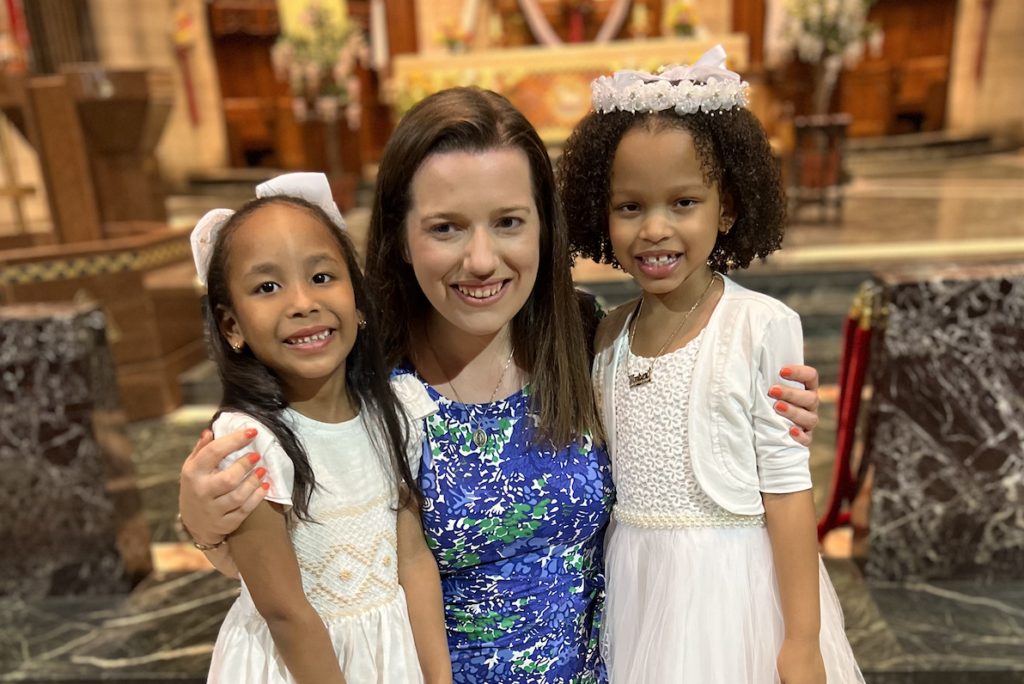 After being accepted as a Fellow, I went to serve in NYC's North Bronx as a Kindergarten teacher and catechist at a school called Brilla Pax. While this was my first year as a missionary and teacher, it was also our school's first year in the neighborhood. There was a unique opportunity for our school to have a positive impact because, aside from being our inaugural year, we were opening in the middle of the COVID-19 pandemic. Obviously, launching a brand new school in the middle of a pandemic brought several challenges, which included switching back and forth between in person and remote learning, as well as not having a lot of face time with families.
However, the challenges we faced pushed our mission in the North Bronx to be even more intentional in building meaningful relationships with our students and families. Even in a time when authentic connections were difficult to achieve, relationships were built at our schools and a larger community was formed from those relationships. As the Fellows got to know and love those disciples and families, the individual families built relationships with each other. It was a beautiful witness to the evangelistic outpouring of Christ's grace and love—that love which converts, calls hearts, and uplifts souls—which we strive to emulate as the Church faithful.
I'm excited to share that the bonds we formed that first year are still producing incredible fruit three years later.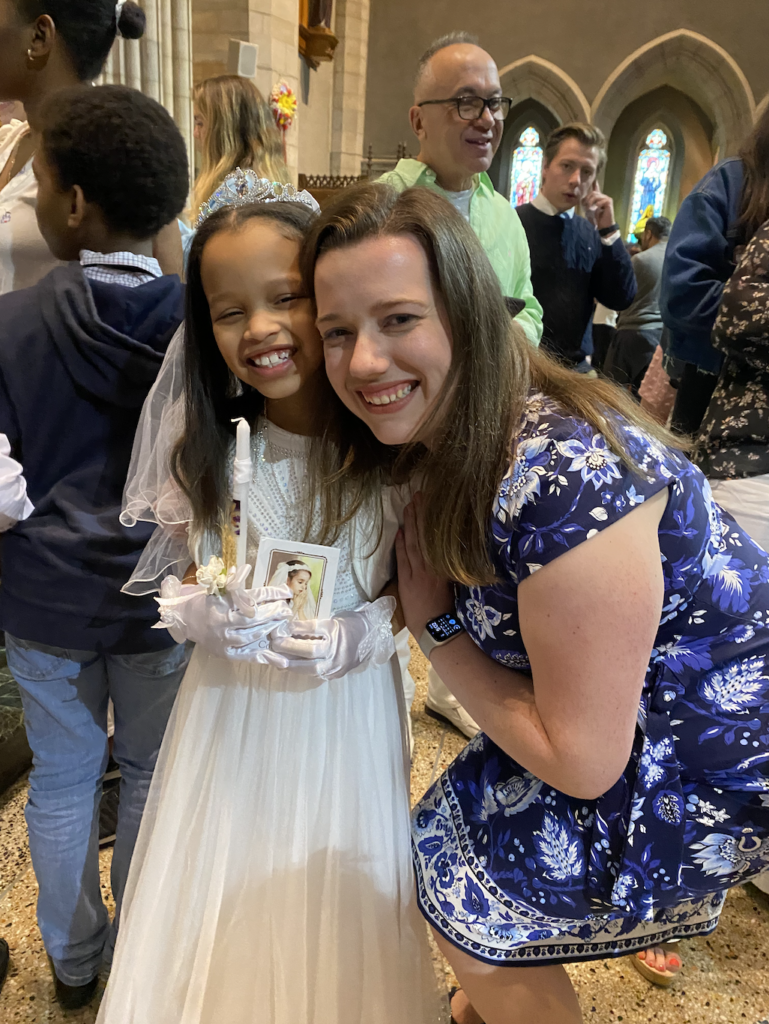 The intentional community that was built has had an impact on the children and families receiving their Sacraments in the North Bronx. Many of our founding families wanted their children to be baptized those first two years that I was serving. Being able to witness so many children and families draw closer to Christ through the sacraments has truly been a blessing. Last year, I was asked to be a Godmother to one of my El Camino disciples: more than just an honor, this was a humbling confirmation of the community that was built between our Seton Teaching Fellows and the families that we serve—we've been given the privilege to simply walk with and be with these communities. In return, our families have allowed Seton Teaching Fellows to be an integral part of their children's education and faith formation.
I'm also excited to share that just a few weeks ago, our North Bronx campuses had their inaugural First Holy Communions! It's an indescribable gift to see such young souls receive Jesus in the Eucharist for the very first time, to know that they've walked from Baptism—the beginning of the spiritual life—and have now chosen to partake in the source and summit of our Faith.
"This is how we build the Kingdom: one simple soul at a time."
As I witness our 2nd graders receive their First Communions and enter into new life in Christ, I can't help but reflect on how far our mission has come in the North Bronx. The verse I shared from Acts of the Apostles at the very beginning of this post was actually taken from the New Testament reading at our First Communion Mass. I truly believe this particular bit of scripture describes how El Camino has flourished in the North Bronx: day by day the Lord added to their community. Through God's Providence we find spiritual abundance. He calls Fellows to serve students and families in the Bronx. This call brings children and their families closer to Christ. This call also builds communities of people who have the same desire to know Christ and to ensure that their children know Christ. This is how we build the Kingdom: one simple soul at a time.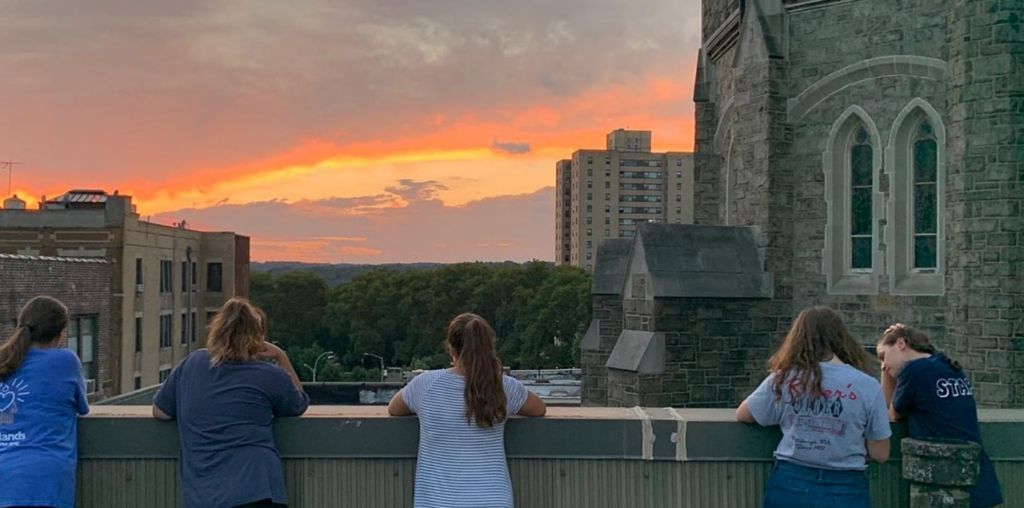 Do you have a burning desire to share the fullness of Christ and His Church with the world? Seton Teaching Fellows is bringing Catechism, the sacraments, and theology to underserved neighborhoods. What are you waiting for? We're hiring! Chat with a recruiter today and find out how you can be part of the New Evangelization.