"They are not afraid to fail. It's beautiful."
A willingness to do hard things is necessary for a life of virtue and purpose. But how do we cultivate this willingness in children, especially at a moment in history when we have many tools intended to make our lives even easier?
The new orchestra class at Brilla Public Charter Schools is providing one possible answer. During each and every class, scholars in Brilla's new strings program learn how struggle can lead to beauty.
All children can benefit from the personal growth and emotional regulation that music education provides, but access to music programs is limited, especially in America's poorest neighborhoods. Children who qualify for free or subsidized lunch are significantly less likely to play an instrument outside of school, so it's no surprise that not one child in Brilla's inaugural orchestra class has ever played a string instrument before. Even within schools, 1.3 million elementary students do not have a music class. But at Brilla, children have access to a holistic education. In this case, through music.
Our Brilla schools are rooted in the classical tradition, which aims to help children grow intellectually, socially, and physically into young men and women of good character and spirit. Music is an effective tool in child development, so expanding the music program with an official orchestra class was a logical next step for our schools.
During the 2020-21 school year, Peter Katcher joined the Brilla Schools Network as the director of fine and applied arts. Peter was excited to help students foster a sense of appreciation and understanding of classical traditions through music, developing "wider ears" by studying the masters. The same year, Brilla College Prep Middle School hired Molly Evans to teach music.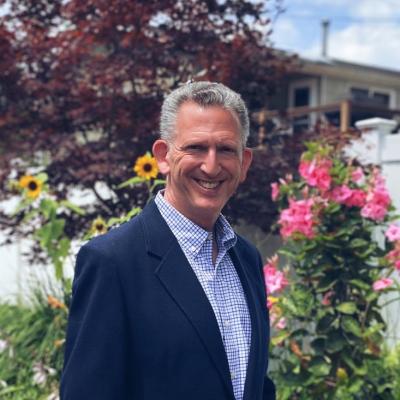 Despite never having led an orchestra before, Molly applied her years playing the flute in band and youth orchestra to take on the task. She dove right in with an open heart, modeling to our students that it is possible to "do hard things" with humility and grace.
While originally hoping to begin orchestra that same year, COVID restrictions meant a shift to teaching a music technology curriculum to ensure that all students (in-person and remote) had access to music education. While Molly helped her scholars lay a solid foundation by increasing their music competency, Peter worked to secure funding so that each member of the inaugural program could have his or her own instrument.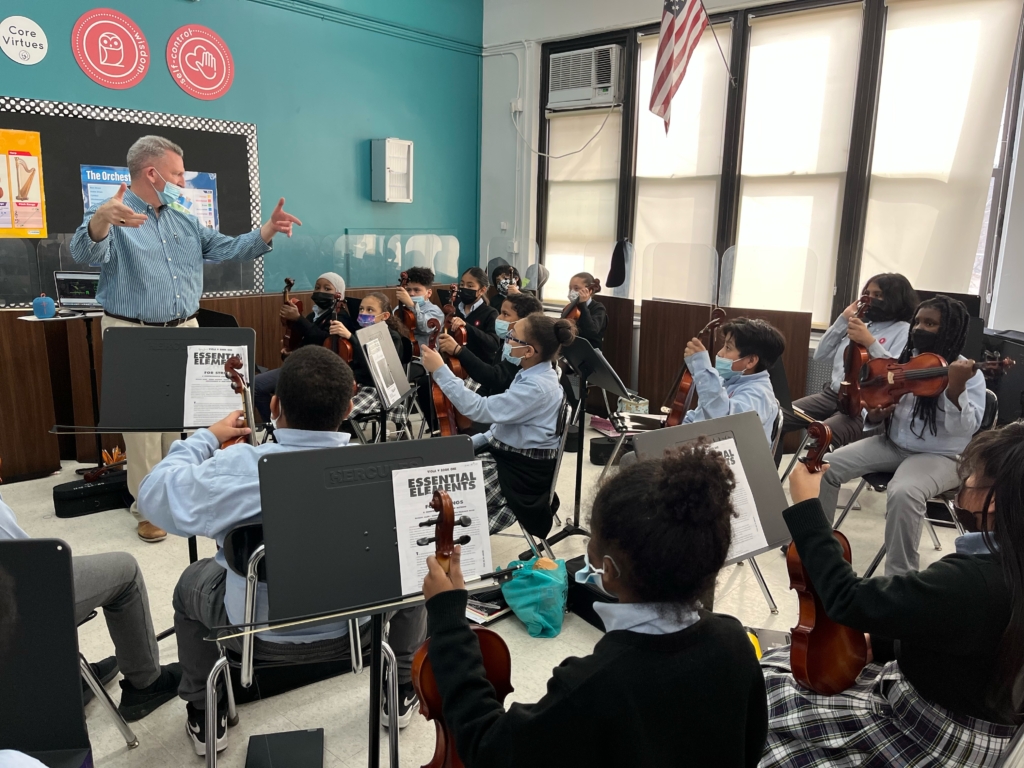 The flexibility and ingenuity paid off.
Once Brilla's orchestra program was launched in person, staff posted on social media to introduce the program. Parents were intrigued immediately. Molly shares, "I had so many parents comment, email, and text me, saying, 'I want to sign my child up for orchestra. When can my child start orchestra class? They need to be doing this. This is awesome!'"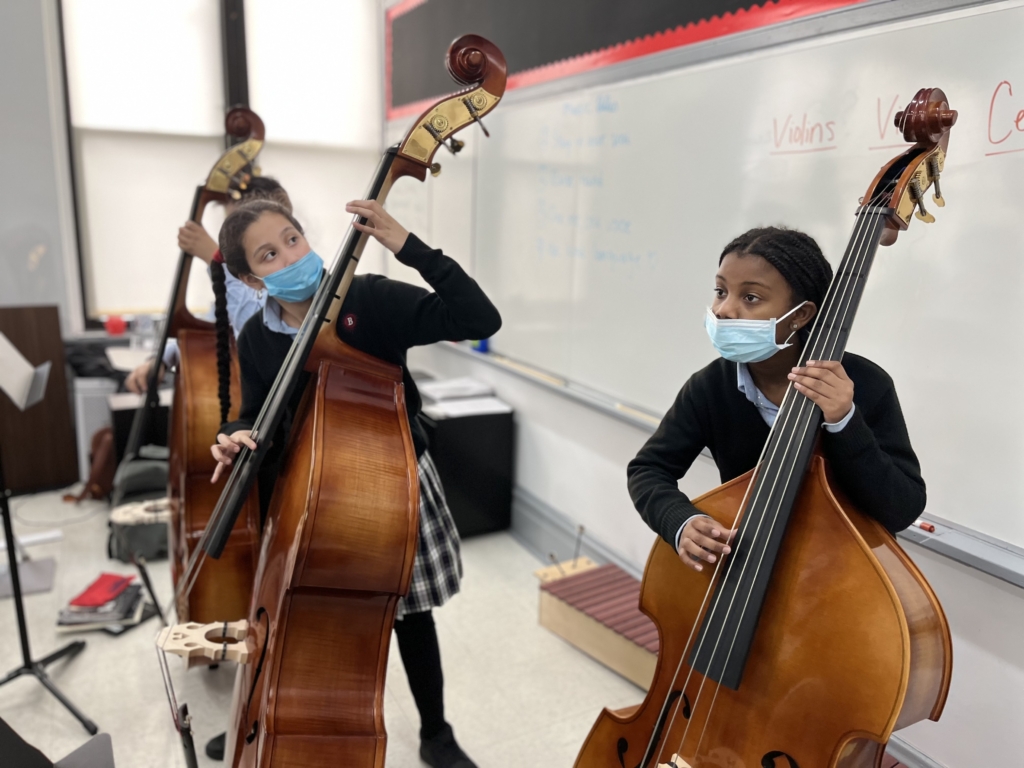 The clear benefits of orchestra are becoming evident in our scholars day by day. For example, the vast majority of music students indicate that their motivation for academic achievement increases after joining the orchestra, something other teachers at Brilla have noticed. Orchestra also has the ability to open the eyes and ears of students, not just to classical music but to a wide variety of genres, exposing them to an enduring conversation across the centuries.
To involve children more and therefore increase their participation in class, Peter came in to demonstrate all the instruments: the violin, viola, cello, and double bass. Scholars were able to test out each instrument on their own and indicate their preference. "The most excitement came when the instruments arrived at school and our children could see all the new instruments, and the one assigned to them," says Molly. Since instruments can't be shared at this time, their names are even ON the instruments, which is a big hit and motivator with students.
One student musician, Elsser Johnson, takes great pride in his unique contribution and role. "I think playing music can be both complicated and easy, but my favorite part is that I am the only double bass player in my class. I really want to learn the song from Pink Panther."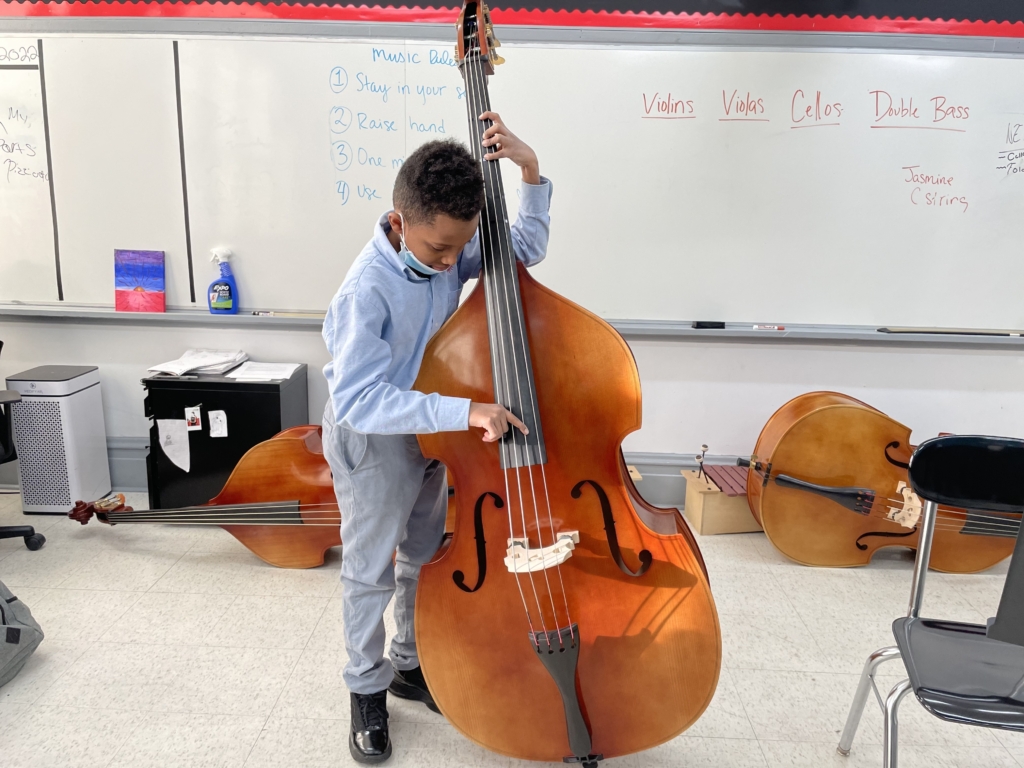 Though we're only weeks into the program, Brilla's approach to orchestra has made a tangible impact on scholars. From experiencing teamwork and competition to teaching students how to perform well under pressure, having children not only learn new music but also learn how to create music is incredibly impactful in their overall development. According to a 2018 study, participation in music results in the development of non-musical skills such as personal organization and learned social skills. Molly is implementing a creative way to teach teamwork by having the viola players "compete" against the violin players, and the cellists help each other out when someone is struggling with a certain note.
Shayla Mejia, who also plays double bass, was on the fence about orchestra when she started. "She didn't speak up too much," Molly says. "Now she plays double bass and is just rocking it. She's one of those students who, when I explain the concept one time, got it immediately. She just has that natural ability."
"It makes me feel happy when I play in our orchestra because I always wanted to learn how to play an instrument. I have learned difficult things, but I knew I just needed to practice to get better," Shayla says. Shayla's mom, Judith Velasquez, is thrilled to see how Shayla has developed a love for music so quickly. Judith hopes to see her daughter "perform with the orchestra in a theater and for her to be recognized for her talent. Brilla is helping make that dream a reality."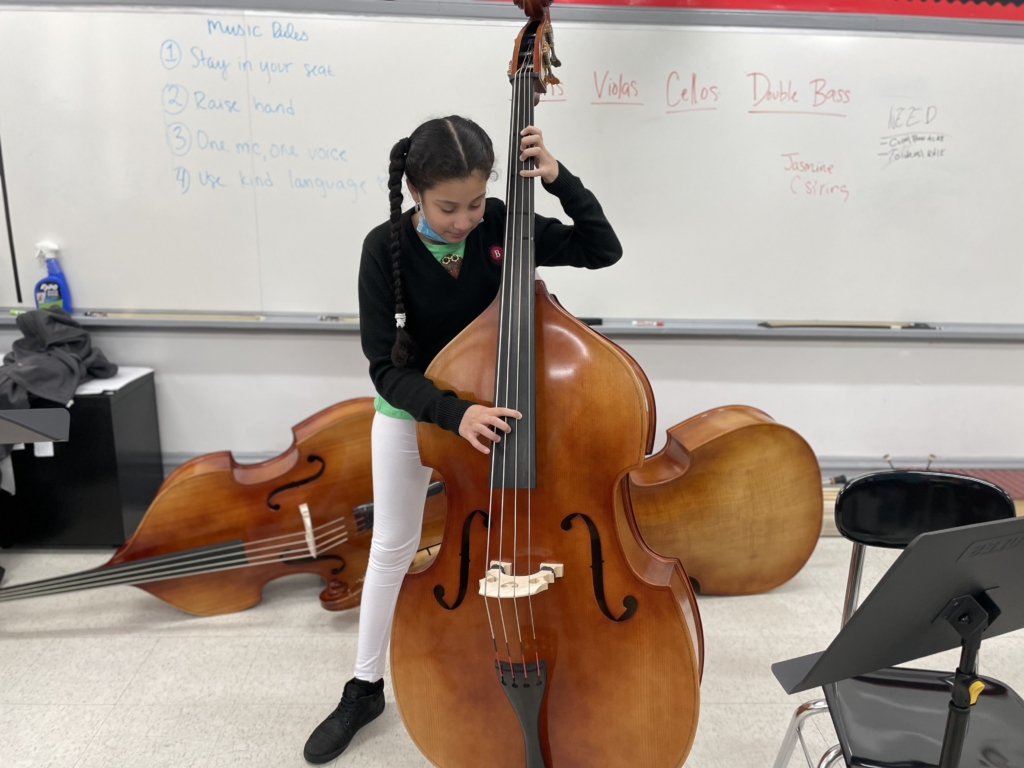 When it comes to overcoming the obstacles of developing a new orchestra program, Brilla does have one obvious advantage—our years of investment in character education. In fact, Brilla's school culture and commitment to cultivating virtue in children is evident to Molly in every orchestra session. Classes are structured in a way that helps children stay engaged while continuing to help them practice virtues like patience, self-control, discipline, perseverance and courage.
Patience is practiced especially at the beginning of class, as students are instructed to pick up their instruments and wait in "rest" position until class begins. And children are developing self-control while they wait without fiddling on their instruments when it's another scholar's opportunity to play.
While all the virtues are important, the courage her scholars are displaying stands out to Molly. "My fifth graders are obsessed with playing solos. They want to play by themselves. They want to play for all their classmates. When I was in middle school, you could not pay me to play in front of the whole band. I wouldn't do that. Every single day my students are asking to play solos. If they make a mistake, they just ask to try again. They are not afraid to fail. It's beautiful," Molly says.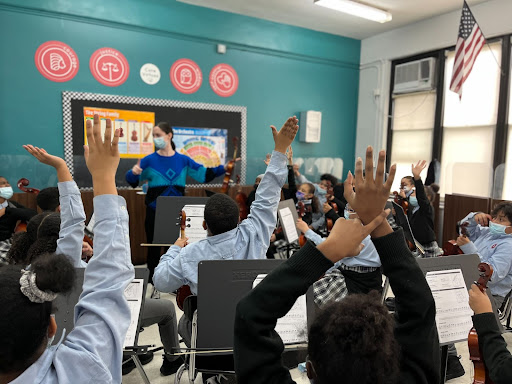 When asked about the role music played in her life, Molly explains, "I was so shy in middle school. But that changed after being in an ensemble in high school. There are so many reasons why I'll fight for an instrumental program—aside from all the benefits for test scores, math and writing—music socially and emotionally, changed my whole life. We're surrounded by people our entire lives and music teaches you how to work well with people, no matter your feelings about them. And it allows you to collaboratively create something meaningful with others—which is so fundamental to a rich life."
And at a time when mental health issues have increased among children of all ages, Brilla students are also learning how facing challenges with courage and hope can ultimately lead to greater confidence and inner peace in our stressful world.
"It was difficult learning different notes at first, but I have gotten better," says Maya Grulion, an orchestra scholar who plays the cello. "I like music because it makes me feel calm."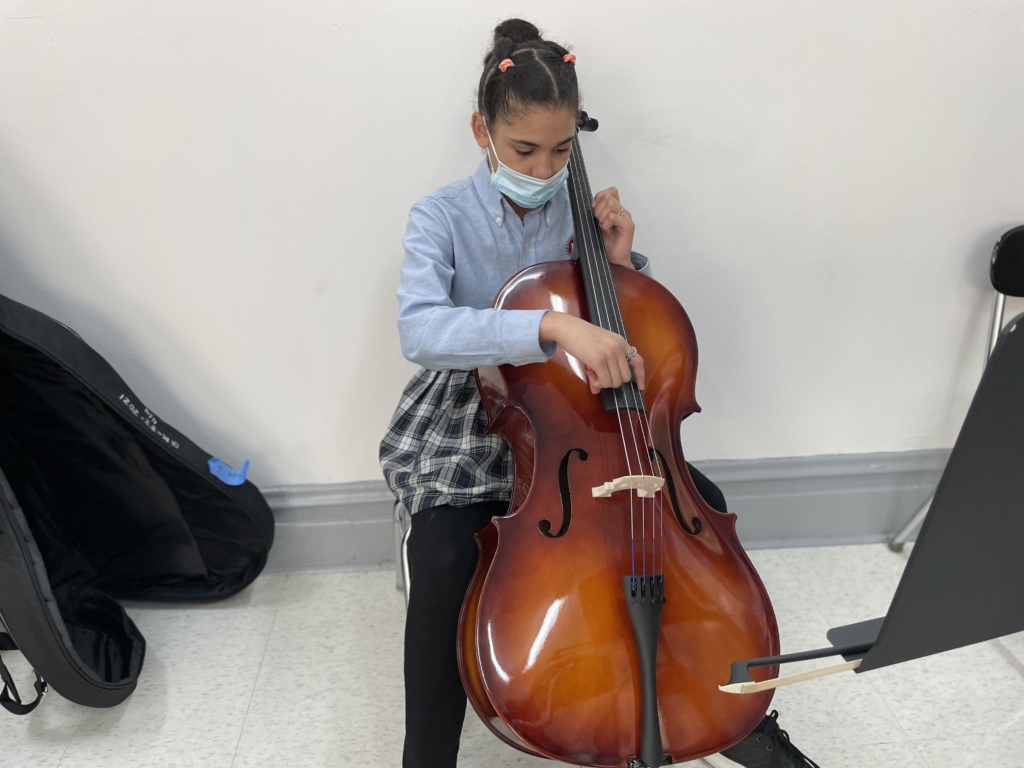 It's clear to Molly that the orchestra program is exactly what children crave. "It's exciting to see seeds being planted. Many of my scholars are so curious, trying to go forward, ahead of the lesson of the day. They want to play duets, they want to collaborate. And I appreciate that eagerness, and I hope that it continues to grow."
Molly plans to have her scholars participate in the next Fine and Applied Arts Showcase that will take place at the end of the school year. Peter and Molly's dream is that the beautiful impact of orchestra will be a light to all—demonstrating the power music has to teach children that they have what it takes to do hard things. If music is truly "the language of the soul," we are grateful that it is already speaking to the hearts, souls and minds of countless children at Brilla.
Do you believe in the power music education has to change lives? The orchestra program at BCPM will expand to the remaining three Brilla middle schools opening in The Bronx this decade. At its full potential, the orchestra program will serve more than 1,400 middle school students annually, most of whom have never played a string instrument before. Contact us at info@setonpartners.org or donate to Seton today to make this vision a reality.