The Rio Grande Valley Welcomes Brillante Academy with Open Arms
One of the first parents in the community of Mission, Texas, to visit the future campus of Brillante Academy had no idea she'd also be paying a visit to her past.
"You probably don't remember me, Mr. Brenner," said Paula Trevino, a mother of two young children, when she arrived at the school site, "but you actually painted a mural with me when I was eleven years old."
Only Aaron Brenner, Seton's chief of charter school growth for new regions, did remember Paula.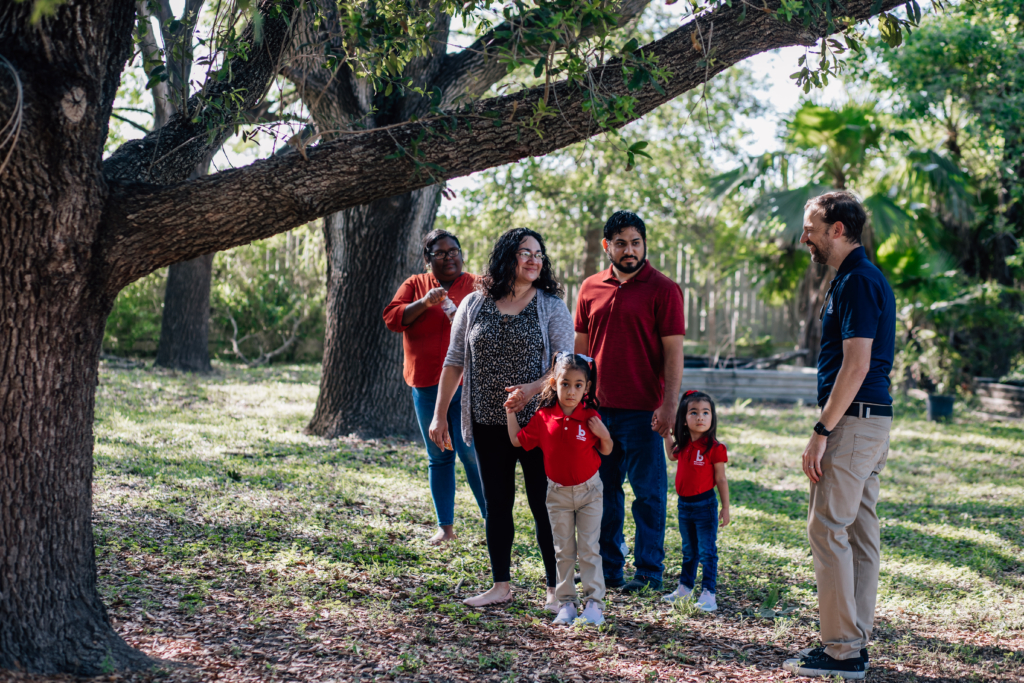 Years ago, shortly after Aaron first moved to the Rio Grande Valley, he started a community art center for youth, along with a mural program called Project Straight from the Heart. One of Aaron's closest friends happened to be the principal of Paula's middle school and asked Aaron to facilitate a service project where sixth-graders would paint a mural of Cesar Chavez at the nearby Cesar Chavez Elementary School. That's when Aaron met Paula, who attended a small, close-knit school that helped to prepare her to pursue a college degree.
Now Paula is looking for a school where her two daughters, ages five and three, will experience a similar "family" environment. "I got to know my teachers really well and I know that was meaningful to me. My parents were involved [in the school]. I plan on doing the same."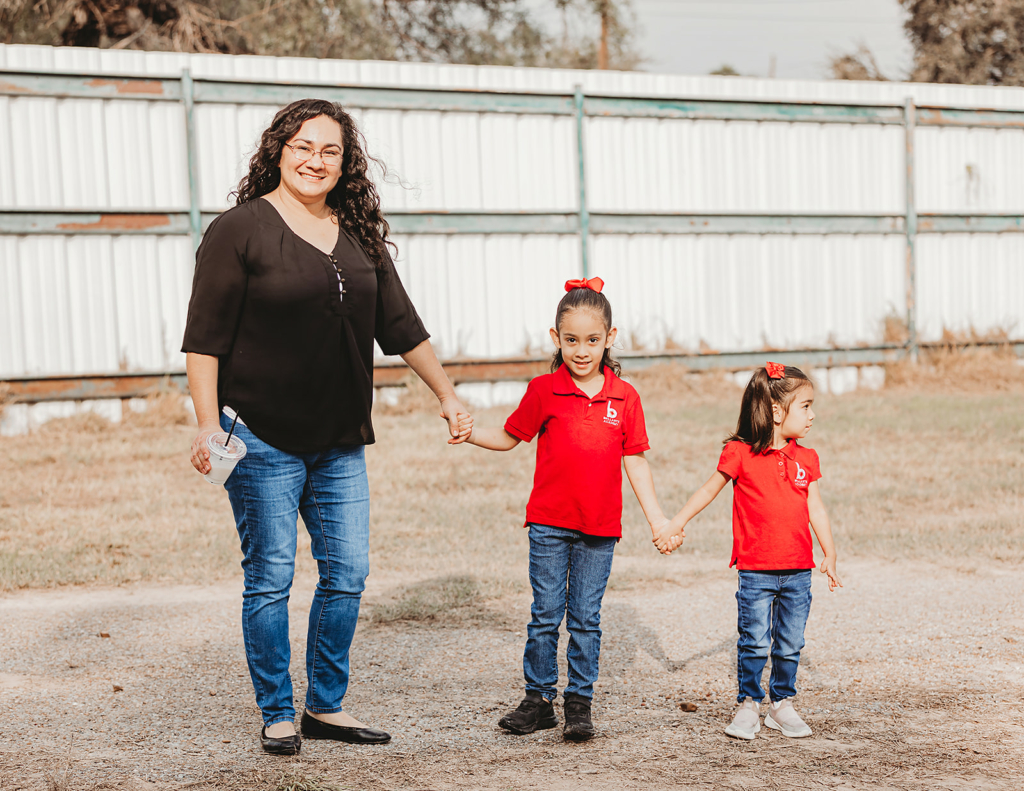 Pending the lottery, both of Paula's girls will attend Brillante Academy next year for first grade and PK4. Paula was one of Brillante's first applicants and quickly became a Parent Ambassador. The school is located near her home and Paula's neighbors are also very excited about this new addition to their community.
Why such enthusiasm?
Brillante's unique dual-language immersion program is definitely one of the most attractive elements to Paula and her neighbors.
"We are a border community. We speak a lot of Spanish at home, and my mom speaks only Spanish," Paula explains, sharing that many families in Mission and the Rio Grande Valley in general experience this family dynamic.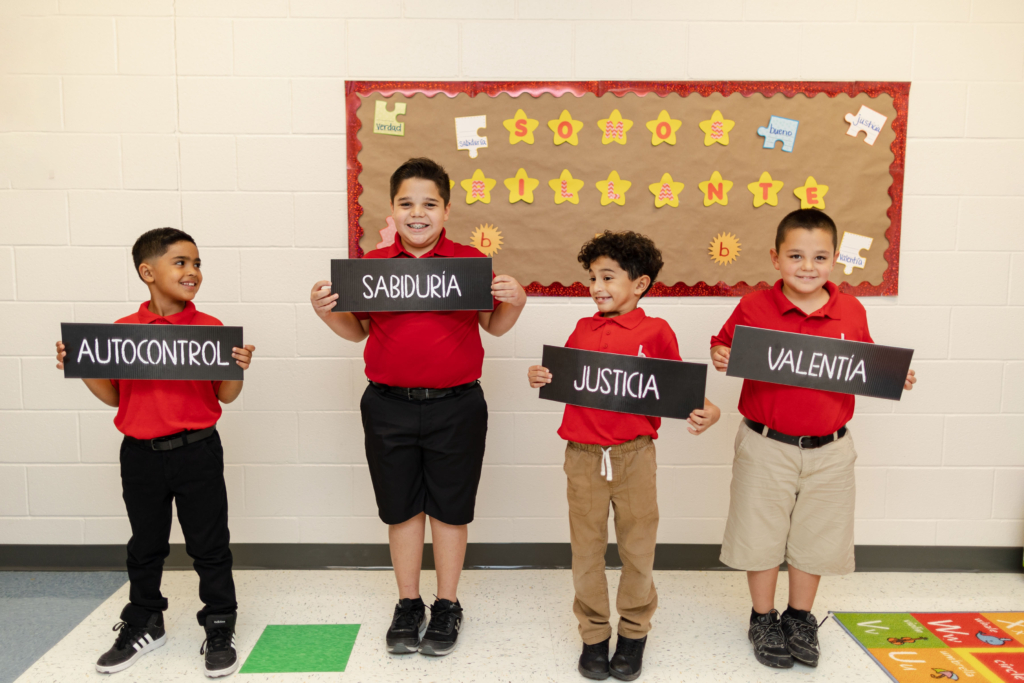 Knowing that her daughters would be bilingual in both English and Spanish by fifth grade was one of the main reasons Paula was so drawn to Brillante. "Preserving the connection with grandparents is important," Paula says. She is excited to know that her daughters will not simply take a Spanish language class; they will be engaged in both Spanish and English throughout their school day, every day.
Aaron Brenner describes the mission of Brillante as one meant to intentionally foster stronger relationships across a community that many recent immigrants and migrant workers call home.
"There are generations of children along the border who are losing their Spanish, and thus they are losing the ability to connect to their own traditions of literature, music, and artistic murals. They are becoming disconnected from all that," Aaron says. "When language is lost, it also creates divisions and dismantles bridges between parents and grandparents, between generations. If students are unable to articulate ideas in a common language, there is a loss of meaningful relationships. Missing out on one's traditions can result in a loss of confidence."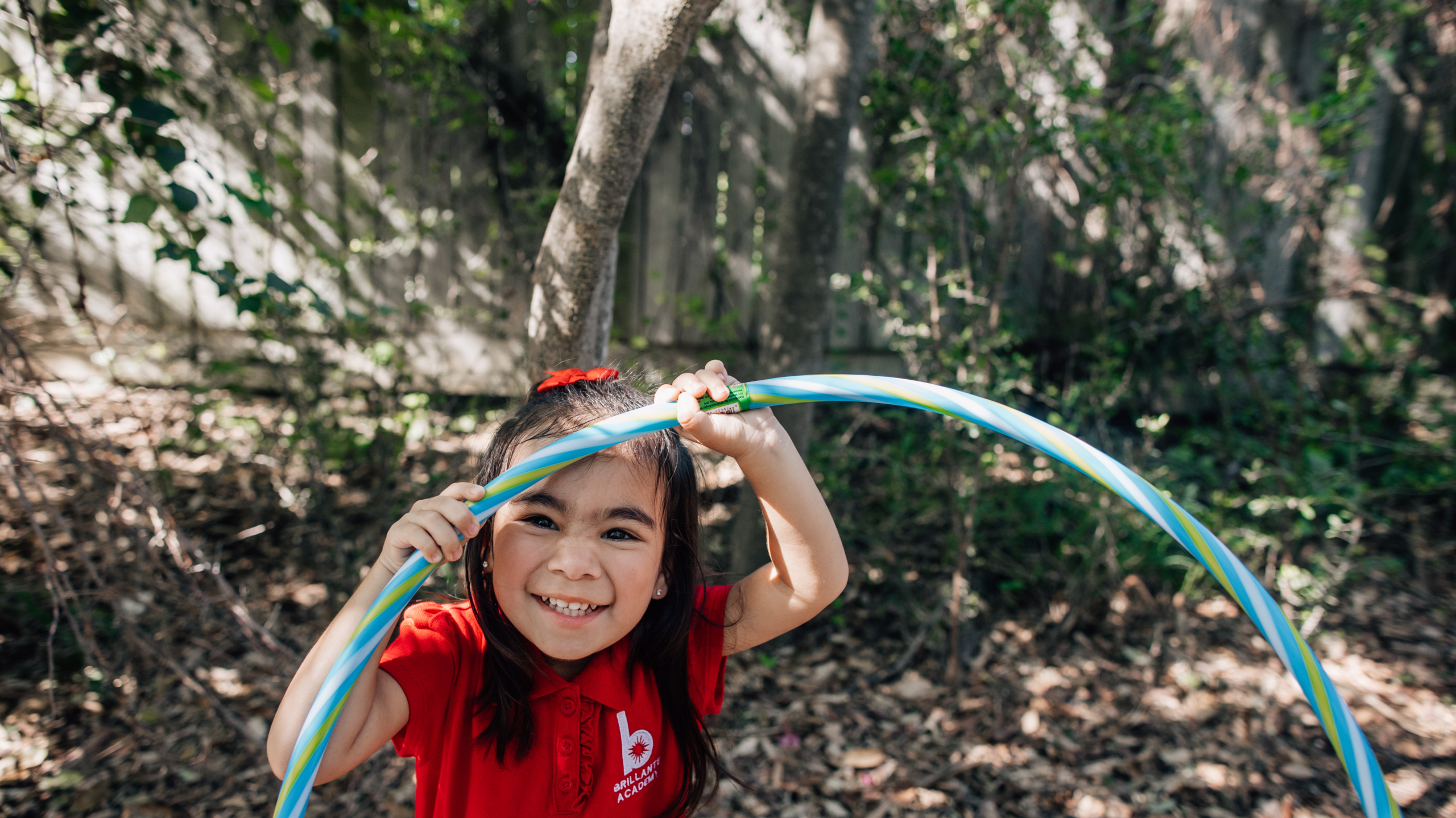 Such a loss of confidence, identity, and the strong familial ties that often give rise to both can result in serious challenges for any child. Yet this loss is of particular concern in the border community of Mission, which was hit especially hard during the COVID-19 pandemic, has a high unemployment rate, and is facing the strain brought on by mental health and addiction challenges.
"Yet it's a community that's never lost hope," Aaron adds with confidence.
The founding of Brillante Academy is one shining example of this spirit of hope in a region of the country where the need is great.
Mission's Mayor, Norie Gonzalez Garza, is grateful that her residents will have access to another a path for students that will prepare them for excellence now and in the future. "Brillante Academy is about more than brick and mortar. It's about the students and teachers that will be impacted, and we are so excited that they chose the City of Mission. It is an honor to have them in our community."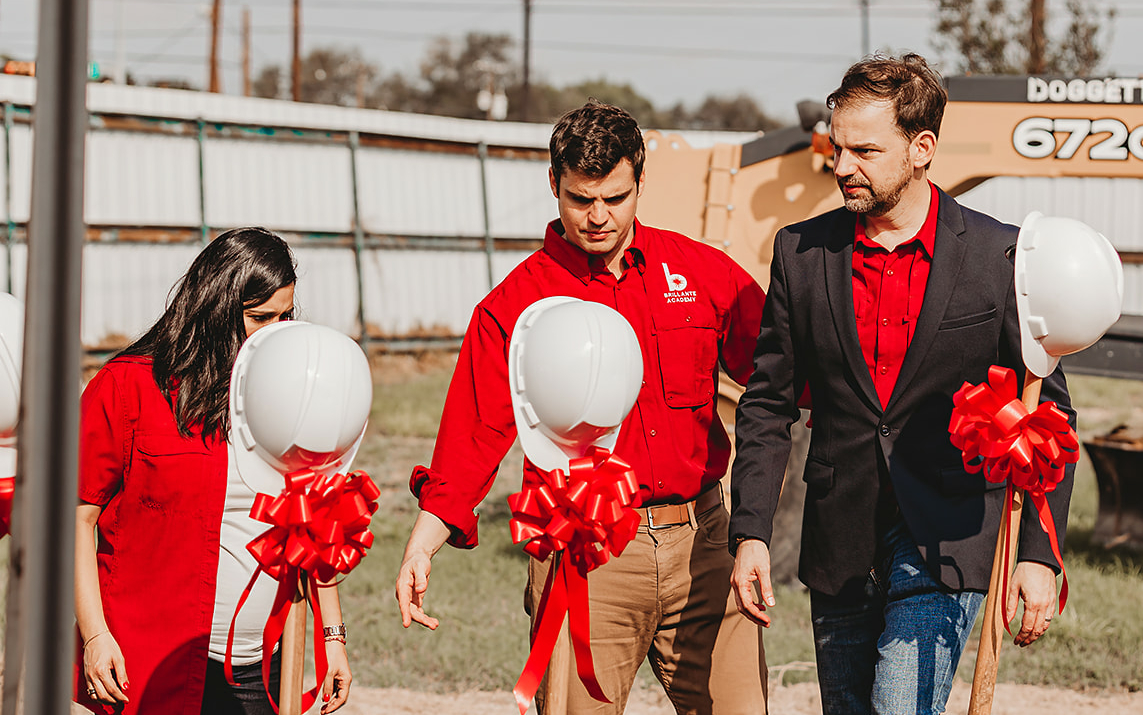 Dan West, Board Chair for Brillante Academy, says that the Rio Grande Valley is a community of "very hardworking, good people seeking opportunity for themselves and for their children." But there are also many social and economic challenges in the region and "too many parents are trapped with limited choices, even though they want options that educate the whole child. They deserve the chance to give this to their kids."
When asked where he hopes to see Brillante in five to ten years, Dan says he looks forward to "the opportunity to watch individual scholars realize their full potential and to grow the school to its full capacity. I look forward to seeing those children thriving, going off into the world, and starting their own families."
In other words, he looks forward to witnessing Brillante children thrive not only as students, but as whole people.
This vision is very much connected to one of the most unique and ambitious elements of Brillante's approach: a dual-language program that also embraces a classical curriculum. It's an innovative combination that can be hard to find in a school.
But Aaron Brenner believes that it is through a classical curriculum that seeks to educate students holistically—mind, body, and spirit—that students will also be able to further strengthen their personal relationships and family ties. After all, one of the main ways to strengthen a person's sense of culture and identity is to connect them back to the history, literature, and art produced in that language.
Ana Karen Salinas, the principal of Brillante Academy, says the school's distinctive approach will encourage young scholars "to question, perceive, and interpret, encouraging them to recognize patterns and identify themes that will guide their thinking." Students will engage with "classic" stories, history, and living traditions not only from the Western world but from all around the globe. This will encourage scholars to recognize their "ancestors and immerse themselves in Socratic seminars that will promote higher order thinking skills in English and Spanish."
The preservation of Latino heritage and culture through early exposure to Spanish language and literature is one of the unique benefits of the school curriculum in which parents like Paula Trevino are interested. Yet there are many others.
"When we took a tour of the school, Mr. Brenner mentioned the chicken coop…there wasn't anything like that when I was a kid!"
Paula appreciates that Brillante is cultivating a forested space where children will be able to take on responsibilities, connect with nature, play outdoors, and even grow a garden in raised beds.
"My girls love gardening," Paula emphasizes.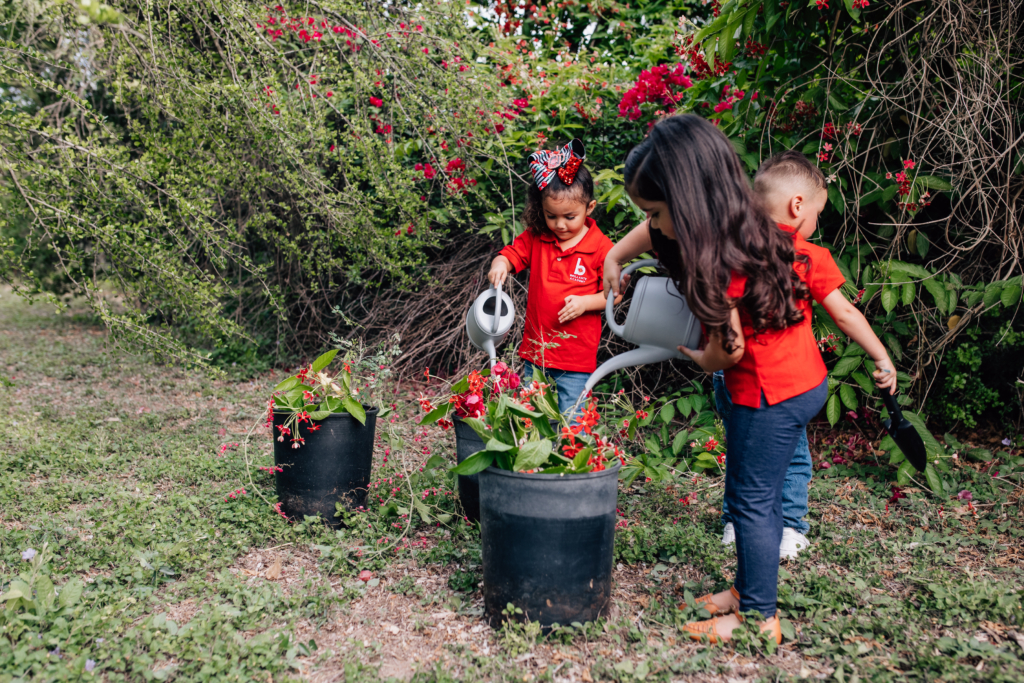 Ana Karen shares that free play that allows preschool and elementary students to explore their world and problem solve on their own will be an important element of Brillante's approach. "Students will also be able to express themselves in the classroom through different styles of learning. There will be a lot of hands-on learning opportunities. Differentiating instruction will also play a major role in our school since we want all students to be successful and reach their full potential."
Another aspect of Brilliante Academy's approach that is ideally suited to the Rio Grande Valley community will be its partnership with the El Camino Network—an optional, extended-day faith and enrichment program parents can choose to enroll their children in, providing them with Catholic faith formation. El Camino in Mission will be closely modeled after the partnership with Brilla schools in The Bronx. Although about 90% of the population in Mission, Texas, has a Catholic background, there are declining levels of engagement when it comes to individuals practicing the faith through active involvement with a local parish, attending mass, and receiving the Sacraments. The El Camino option will provide yet another opportunity to educate the whole child by encouraging young disciples to grow spiritually and in virtue. It will also serve to reaffirm and reconnect interested families back to their Catholic roots, thereby strengthening the faith and cultural identity of families across generations. 
It is interesting to note that Brillante Academy's groundbreaking ceremony occurred on December 9, 2022, right in between two feast days that are especially important to Latino Catholics—the feast of the Immaculate Conception (December 8) and the feast of Our Lady of Guadalupe (December 12). Perhaps this is merely a coincidence or perhaps it is another example of what Aaron Brenner calls "affirming moments"—a series of incidents that have bolstered his courage and conviction in the midst of the many challenges that arise when attempting to found a charter school. In trying times especially, these experiences helped strengthen his belief that "we were on the right path."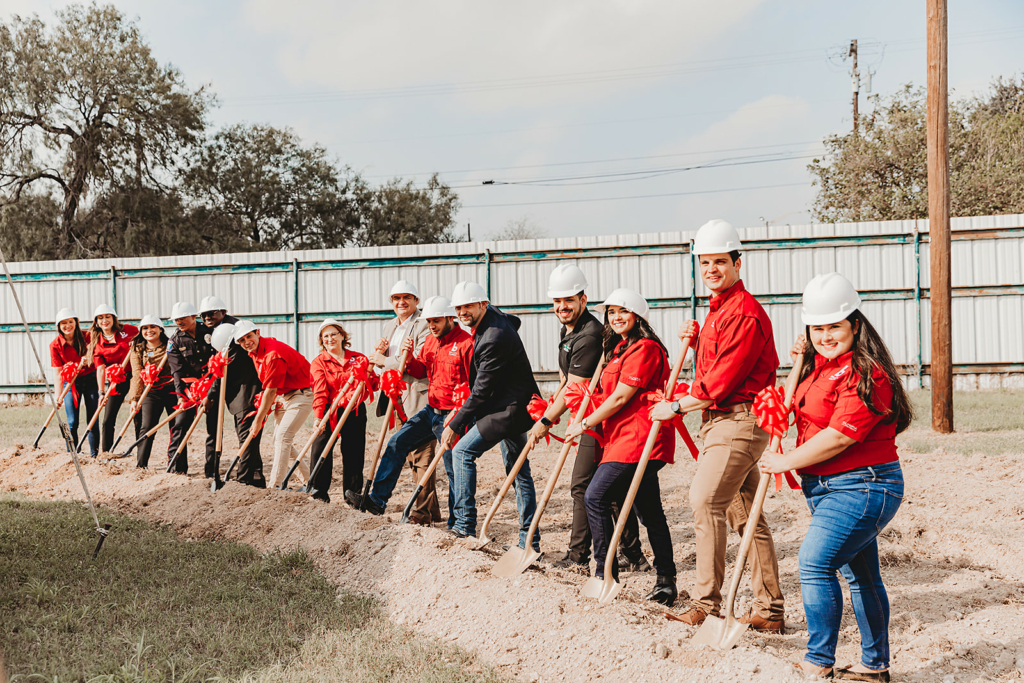 In addition to meeting Paula Trevino, another of these affirming moments occurred when Aaron was attending an important city council meeting to seek approval for crucial changes to the construction plans for Brillante. After Aaron presented and was leaving the meeting, a woman he did not recognize ran after him and gave him a big hug. She reminded Aaron of a community effort he had helped her with over twenty years ago. 
That woman was Irma Flores, a longtime resident of Mission, who saw Aaron presenting and thought, "Wait, I know this man." As he shared about Brillante, Irma realized she had worked with Aaron on a youth mural project when she worked for Misson's housing authority, helping to provide public housing for children most in need. "I love my community and I'm so happy that Brillante chose Mission for this school," Irma says with great enthusiasm. She believes this new school will "empower families and enrich their lives" and that under Aaron's leadership, children will "benefit from his creativity and empathy."
For Aaron, Irma Flores's encouragement felt like another indication the Brillante team was on the right track. As if yet another mural project from his distant past was revealing the profound potential Brillante Academy has to impact Mission's present.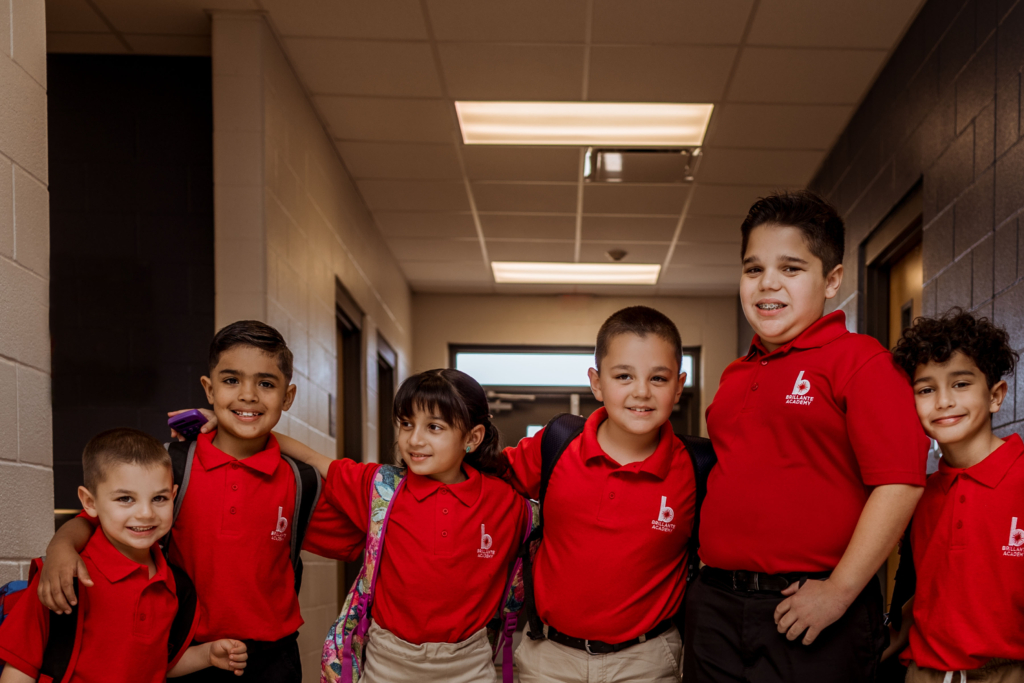 Aaron says this revelation that seeds planted in Mission over two decades ago are now having the opportunity to bear fruit felt like "coming full circle." Such an experience goes to show what kind of bridges can be built—across generations and across a community—when fostering meaningful and intentional relationships is at the heart of any effort.
It's a life lesson every child and family who comes to be part of the community at Brillante Academy will hopefully carry with them long after their school days are over. It's also a vision the entire Brillante team is committed to, one that Aaron shared at the groundbreaking ceremony when he spoke about how he wants every child who passes through Brillante's doors to be known, served, and loved. "Wherever they go in life, whatever profession they seek, in the darkest of days and the most difficult of times, Brillante will always be a home to them.  As a team, as a Brillante family, we commit to that."