Attending a new school is an adjustment for any child, but learning a new language while navigating a hearing impairment is a significant feat for a five-year-old to overcome. Yet Maura Pérez Pérez believed her daughter, Bianca, was capable of facing these challenges with the right kind of support. At Bianca's first school, she experienced little joy, barely spoke, and was unable to connect with her teachers. As the mother in an immigrant family that is working hard to make ends meet while finding their way in a new culture, Maura knew Bianca's education was vital to her daughter reaching for the kind of life her mother dreamed of giving her. So she knew something had to change. Finally at a new school, less than a year later, Bianca is described as a leader in her class who "likes to go to school" and wishes she could attend "even on Saturdays and Sundays." How did such an amazing transformation occur in this bright little girl so quickly?
Unsurprisingly, it began with the hope and love a mother has for her child. Maura Pérez Pérez came to the United States from Guatemala in 2014. She and Juan Carlos Ramirez, a painter, have three children: Bianca is in kindergarten, Jacob is two years old, and their baby is four months old. The Pérez family lives in Ohio in an extended-family household with Maura's niece, Amelia Pérez Pérez and her two children: Osiel Adán, also a kindergartener, and Erizeida, who is in pre-K. Amelia also immigrated from Guatemala when she was just fourteen years old. Maura and Amelia both send their school-aged children—Osiel, Bianca and Erizeida—to Seton's Romero Academy at Resurrection in Cincinnati.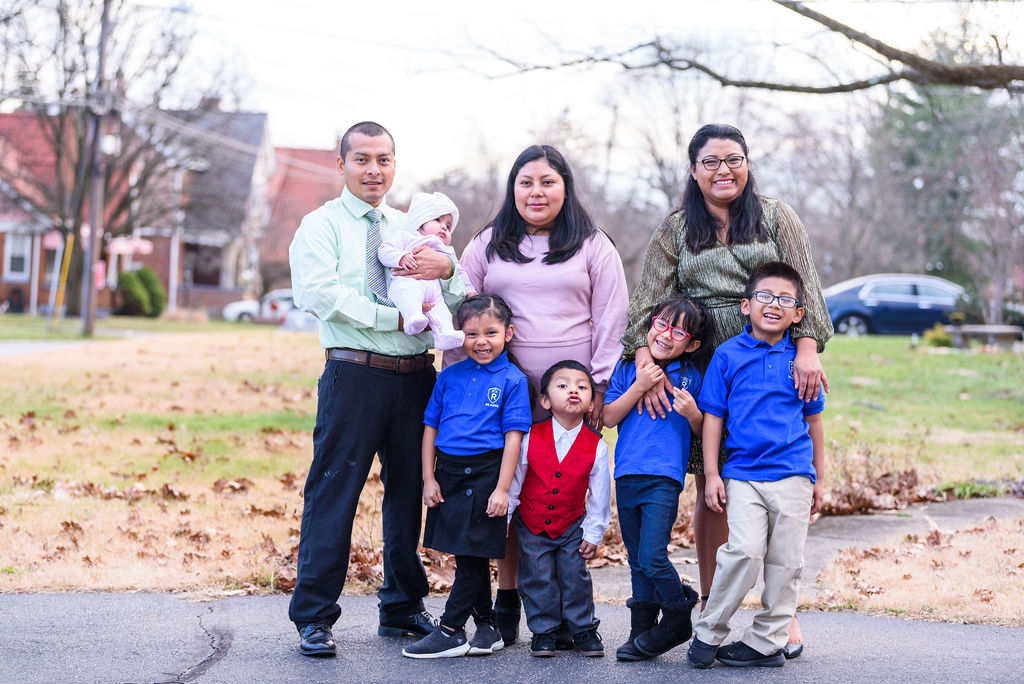 Besides living in the same household, Maura and Amelia have similar goals for their children. "I would like my children to pursue careers that take them far. I want to see them not having to work constantly. We work as the immigrants that we are. But I want to see them in an office or something better than us. I want something more for them," Maura explains. More than anything, the Pérez families want greater opportunities for their children—a worthwhile goal that they hoped a school could partner with them in pursuing. Maura took a first step toward dreaming of a better future for her children by sending Bianca to a nearby public school. She knew she had to be more involved because Bianca was diagnosed with a hearing problem as an infant after she failed the hearing test administered to newborn babies. However, it wasn't until beginning school that Bianca faced real challenges. "She was there before the pandemic started. The teachers were very distant. They didn't pay attention to her. She stayed there for six months and in six months, she didn't learn anything. Then they closed all the schools and I didn't want Bianca to go back." Between an uninvolved staff and the pandemic, Bianca quickly fell behind.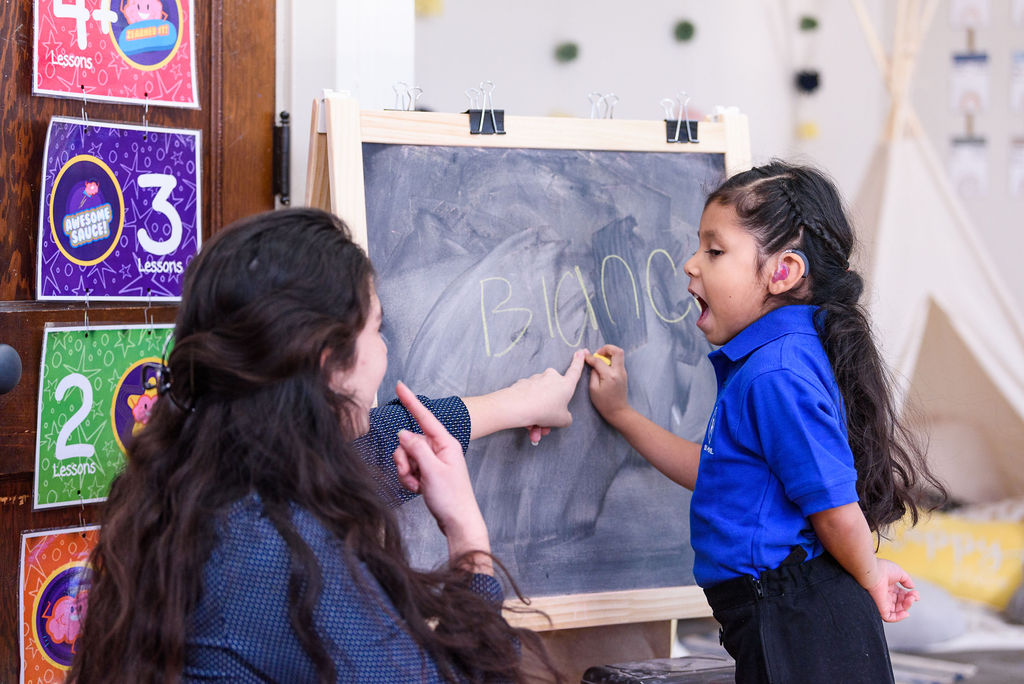 Once applications opened for the 2020-21 school year, Maura enrolled Bianca at Romero Academy, and Amelia enrolled her son, Osiel. While Romero Academy is a private Catholic school, more than 99% of the students who attend are on a full-tuition scholarship through Ohio's voucher program for children who would otherwise attend a failing public school or qualify based on family income.
"The difference between Bianca's first school and Romero is vast, because at Romero, they tell you about all of your child's achievements and they pay more attention to them. And Romero offered Bianca speech therapy and headphones to help her pay attention," Maura says. Despite rarely speaking in class at her first school, Bianca began speaking more in class and has become much more social since starting at Romero.
Ms. Matheson has taught both Osiel and Bianca since they arrived at Romero Academy. She attests to the changes in both children and the tremendous growth they have made:
"Osiel and Bianca are an absolute joy! They have grown so much more than I ever would have thought possible! When they started pre-K, neither spoke very much English. Osiel often became frustrated with his inability to communicate with his classmates and teachers. Bianca didn't talk very much for several weeks. As the months passed and they both grew more accustomed to school, the schedule, and the people who were with them each day, they both grew into what seemed like new children! Osiel started asking questions, explaining his wants and needs, and talking to peers. Bianca became more confident in her ability to speak and answer questions in class. It has been beautiful to watch them both go from being quiet and shy to inviting other students into whatever they're doing," Ms. Matheson says.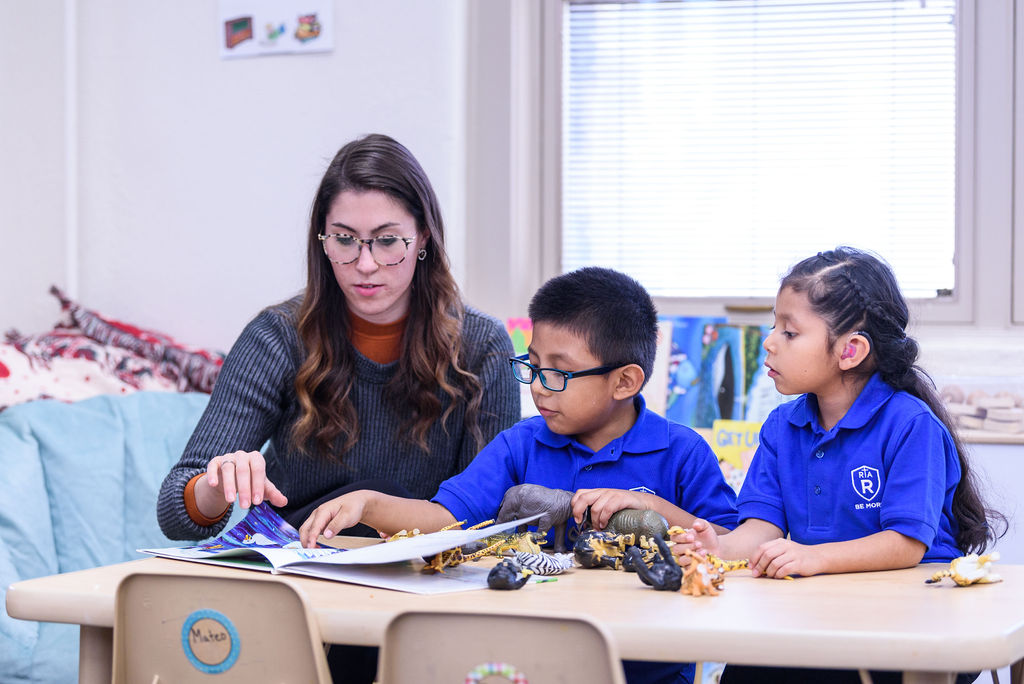 Osiel also started school quite withdrawn and "not wanting to share his toys." But the staff at Romero Academy noticed he needed additional support to grow." He was supported with behavior therapy and he changed so much. The teachers and staff always keep me up to date on how my children are doing," Ameila says.
The proof isn't just in the behavioral improvements Maura and Ameila witnessed in their children since starting at Romero. "Bianca has learned a lot: her letters, numbers, to write her name. And now she is more responsible for her own homework," Maura says. Amelia agrees: "My son has learned many words, the numbers, the alphabet, everything!" When Bianca and Osiel joined Romero, they could only count to three; now they are counting in both Spanish and English up to forty.
Ms. Matheson is just as encouraging as their mothers are. "Their academic growth has also blown me away! In the beginning of pre-K, it took them a while to catch onto numbers and letters, and learning about new concepts was difficult. Now, they are both some of the top students in math and reading. I was nearly brought to tears a few days ago when Osiel was able to sound out words in small groups. The smile on his face was priceless, because he knew how hard he'd been working to get to this place," Ms. Matheson says.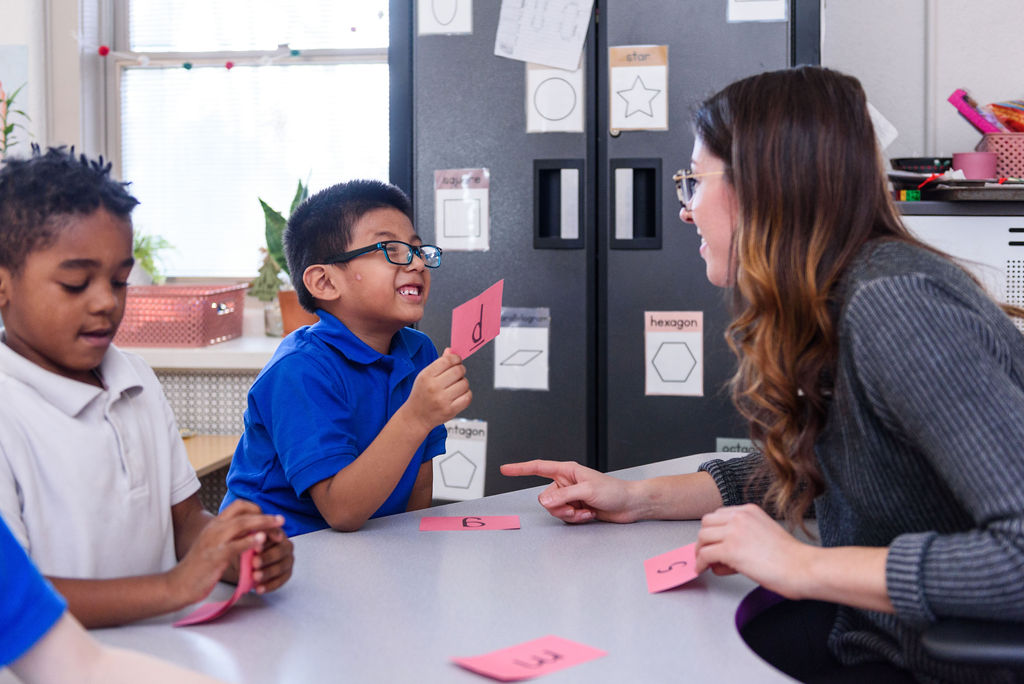 As is important for all Seton schools, their growth is not confined to their academics. They are learning what it means to be part of a community and how to form friendships. Osiel is known to regularly say goodbye to every single student as they leave at the end of the day and notices whenever someone is absent. "Bianca is especially considerate of students this year in kindergarten who don't speak very much English," Ms. Matheson says. "She is often found assisting one of them or finding them at recess to include them in whatever game she's playing."
The teachers and staff at Romero have played a truly invaluable role in the Pérez children's lives. "I think my children let themselves be loved because they love their teachers very much," Ameila says. Maura adds, "My daughter loves her teachers because she says they treat her well. I would like to thank the teachers very much for the love they give to my children more than anything. It's worth it having teachers who are kind."
Not only have the Pérez children developed socially and academically, they have also grown spiritually. "We didn't go to Mass every Sunday before Romero, but after they started coming here, they went to Mass every Thursday and Friday and now we go on Sundays, too. They like going to Mass. They even like to pray before they eat. They have taught us all what religion is," Maura says. Amelia also notes how her son has grown in his faith. "My teacher says we have to pray before we go to sleep because God likes it," Osiel tells his mom at bedtime.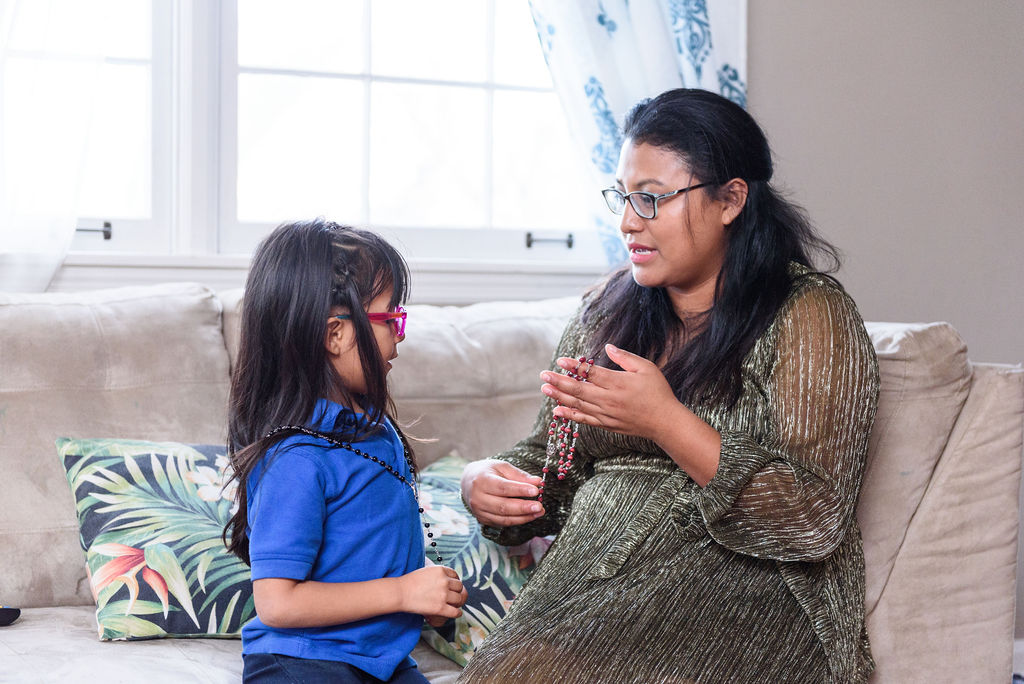 Mr. Antonio Mata was a Seton Teaching Fellow last year and is now the pre-K teacher at Romero, where he teaches Amelia's daughter Erizeida. He helped Osiel and Bianca prepare for baptism during Family Faith Nights, taught them religion during the school day, and aided Ms. Matheson's pre-K class last year.
Mr. Mata also noticed Osiel had a tough time adjusting last year, but he explains that "Osiel tries his best in everything he does." Bianca is "tender and caring, frequently walking up to other children and hugging them if she sees they are sad."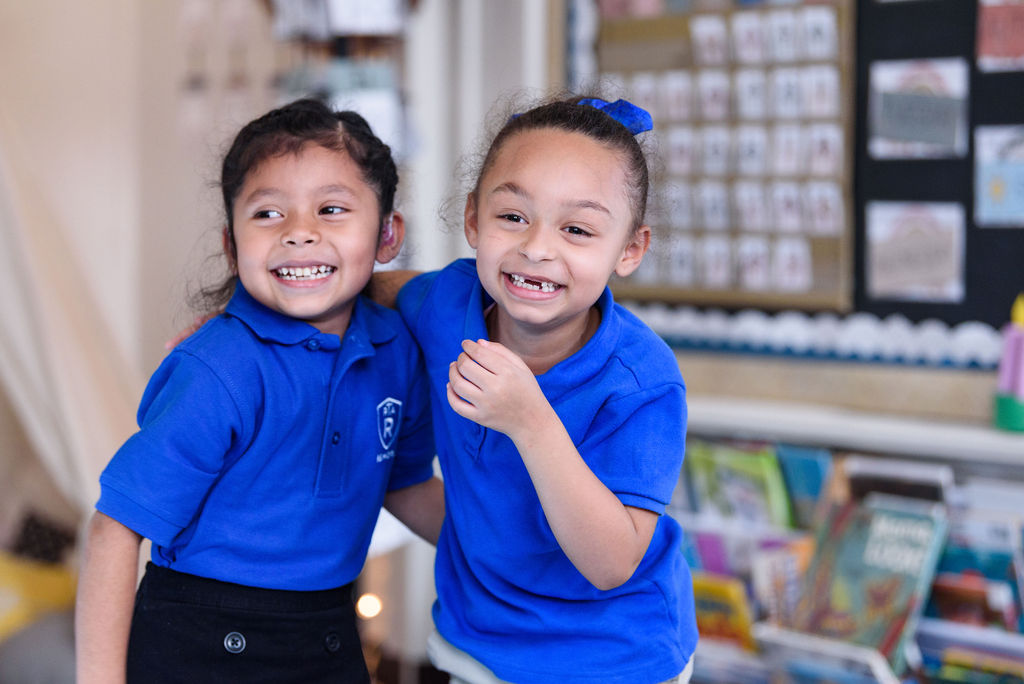 Spiritual growth is a foundational element that makes Mr. Mata especially grateful to be part of the Romero community. "Their growth in their faith is what always gives me hope for the future. There has been constant support from the family and you see those seeds growing in their children. In the first enrollment meeting we had with their parents, they asked if it was possible to get their children baptized through the school. We obviously said yes and helped to get to that point, and I saw the children themselves get excited. They were always learning their prayers and trying to make Mary and Jesus happy."
The first time Bianca and Osiel went to a Sacramental Family Night at Romero, an event hosted by the Seton Teaching Fellows to help families prepare their children for the sacraments, Mr. Mata was outside greeting parents when Bianca and Osiel came running up to him screaming with excitement. He picked them up while trying to talk to their parents in his limited Spanish. As he put them down and continued to go inside, he noticed both children were holding his hands on either side to let him lead them to go sit down, "which to me was the most impactful because that was the beginning of formation for them to receive the Sacrament of Baptism. The family and children let me help them join the Church," Mr. Mata says.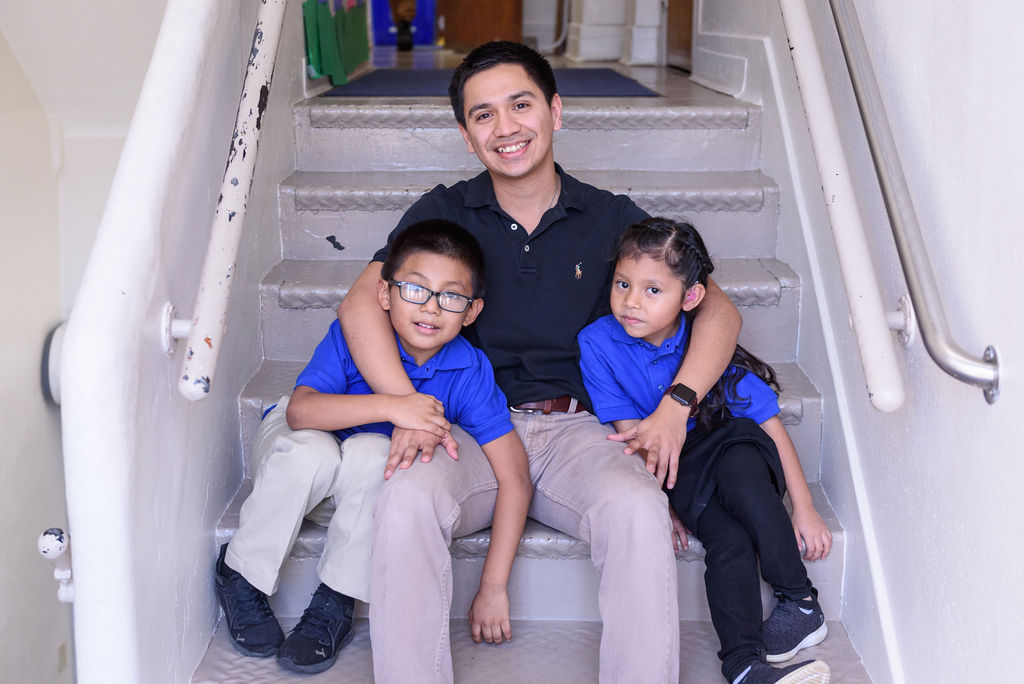 When our Seton Teaching Fellows join our mission, they sign up to love. Two overjoyed children pulling their teacher into church is certainly a compelling witness to this mission of reciprocal love!
Maura and Amelia Pérez and their children overcame great obstacles in order to immigrate to this country, and they continue to face social and economic hardships. Yet now they do not face them in isolation. With the opportunities and supportive community they have found at Romero Academy, Maura and Amelia are succeeding at giving their children more than they could have imagined. In light of this meaningful transformation in all of their lives, Ameila says she "100% recommends Romero to other parents. I thank God that I signed my children up."
Bianca is not the only child who suffered lasting consequences as a result of the last two years. Will you partner with us to make a monthly commitment ensuring we can support more children in underserved communities? Make a year end gift––donate today.