In this blog post, we're sharing an interview between STF recruitment manager, Jake Coonradt, and Cohort 9 Seton Teaching Fellow, Shannon Griffin. Shannon graduated from the Catholic University of America with an undergraduate degree in International Economics and Finance, and a masters degree in Integral Economic Development. We are so happy to share Shannon's story, and pass on some of the wisdom she's garnered from her year as a Fellow.
Why Seton?
Jake: Ok, Shannon, I think you have a really cool story. You've shared a little bit of that with me, but I was hoping you could walk us through some of the things that lead up to your year with Seton Teaching Fellows. 
Shannon: Sure!
Jake: Great, let's dive into it. Shannon, how did you first hear about STF?
Shannon: Well, I don't actually remember the first time that I heard about Seton Teaching Fellows—it may have been at a long term service fair at Catholic University of America or something like that—but I do know the way that it connected for me; because even though I didn't know about Seton, I actually knew about our partner schools in NYC: Brilla Public Charter Schools.
When I was a senior in undergrad preparing to do a masters program at CUA, I was considering which year long project to do. One of the potential projects for me to undertake was in education, and it was actually a study connected to Brilla Schools Network. Shortly after, another friend put me in touch with someone who was becoming a Seton Teaching Fellow with cohort 8, and I realized that the program they were doing for Seton was tied to Brilla.
Jake: So you connected the dots?
Shannon: Yes! Even though I think I had heard about it before, that's when I connected the dots and realized what the fellowship actually entailed. It was a little bit on my mind because I had previously been thinking about doing a year of service after undergrad, but decided to pursue a masters degree instead.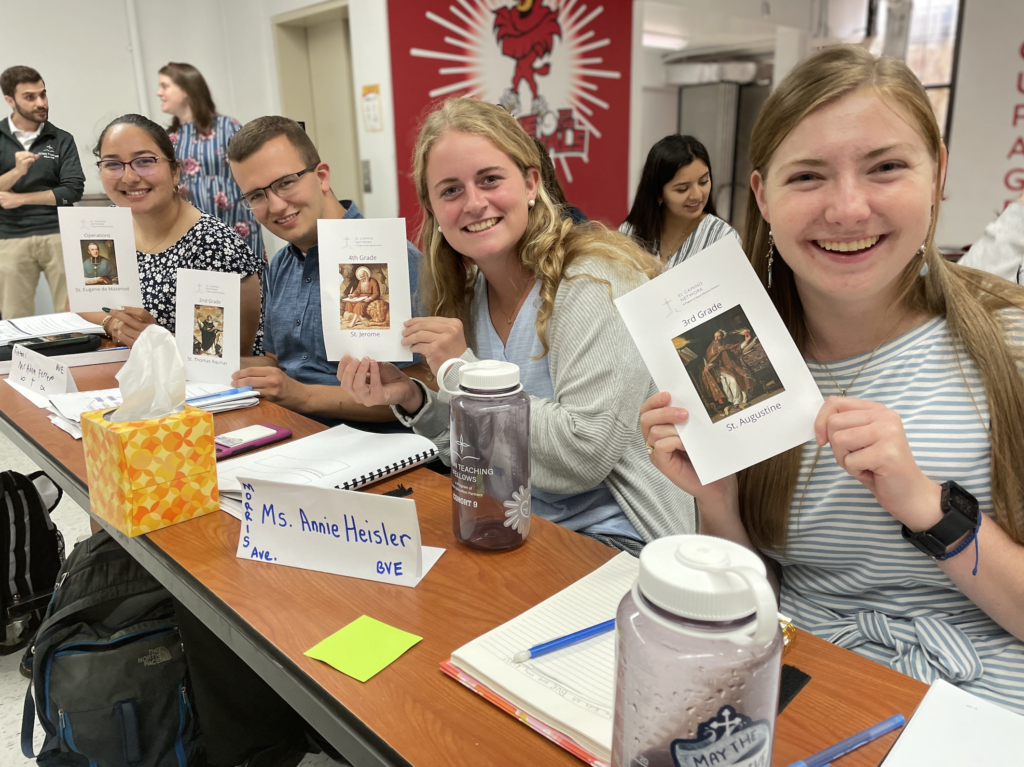 Jake: What did you do for undergrad?
Shannon: I majored in Economics and Finance, and minored in Philosophy and Spanish.
Jake: (laughs) Woah, that's a lot. Why did you choose to study economics?
Shannon: Well, my interest in economics was sparked in high school. When I went to college, I was really undecided on what to study at the end of my freshman year. I worked with a career coach to try and figure out what I was good at, and I realized that I really did like econ, and was interested in that. I had looked at engineering and some other paths, but economics was where I felt my skill set and interests could be used best!
Jake: And how did your masters tie into that?
Shannon: I did a masters in Integral Economic Development. It's one of two masters programs for economics at CUA. Most of the professors at CUA specialize in economic development, which is often internationally focused on developing economies in at-need areas with special interventions, and then analyzing those interventions to see if they made a positive impact. The integral part of economic development references the holistic, Catholic approach to economics. So, that approach includes the human being as an individual and sees the human person as a social being rather than just a self utility maximizer, which is the lens traditional economics often takes.
Jake: Ok, that's really cool. How did that get you learning about Brilla?
Shannon: I have always been more interested in domestic issues, rather than international issues. About the same time I was considering a masters program, Brilla schools was talking to one of my professors about doing a study on the impact that explicit character education was having on Brilla students. The focus was supposed to be on the virtue and character development that students received during daily academic instruction—it was not related to El Camino, our after school program, and I didn't really know about the Seton Teaching Fellows. I was really drawn to the project as a domestic study, and so I ended up pursuing it for my masters degree.
Jake: Oh, that's fascinating, what did you find?
Shannon: Well, we didn't find anything yet! I only did a one year program, so my job was to develop and defend the study and surveys for a number of grades, which I did. The project hasn't been implemented yet, and so there's currently no data to report back on. That being said, I really got to know the character formation at Brilla, and so I had a different understanding of the mission compared to a lot of my peers in this cohort.
Discernment and Decisions
Jake: So you made the connection between STF and your study at Brilla, but how did you discern that you were called to serve as a Fellow?
Shannon: Well, I mentioned that I had been interested in a year of service before I chose to pursue a masters program, so, when my time at CUA was coming to an end, I realized I was still interested in service afterwards. Obviously, I knew about STF at this time, but I was also discerning service with some other missions, like the Culture Project. 
Jake: Oh yea, they're great!
Shannon: Yea they are, but I was also really getting interested in education. The economic development side of education is in policy, but I didn't think it made any sense to go into that without any on-the-ground experience, of which I had none! I was talking with two of my friends one day, and mentioned STF, and one of my friends just told me that I should do it. When it comes to discernment, if another person is giving me good counsel to pursue something I'm praying on, it's normally a sign that, "Hey, I should do this."
So I applied, and the application was so easy! And then doors just kind of kept opening for me. In the end, I had just applied to Seton and the Culture Project, and some doors sort of closed for CP, and doors opened for STF. I got to a place where I was like, "it's either Seton Teaching Fellows or I start discerning all over again," which didn't make any sense.
I don't really know what was going through my head, but some part of me said: I want to be there. I want to make a difference for these children.
Honestly, I really started feeling called to Seton Teaching Fellows when I went through the nearpod presentation. I got to see pictures and videos of the students I could be serving as an STF, and who I had been preparing surveys and studies for as a masters student, and I don't really know what was going through my head, but some part of me said: I want to be there. I want to make a difference for these children.
Jake: Yes! That's beautiful. I had a similar experience. I found out about STF from a video embedded in an email blast from a Catholic student group on my college campus. I wasn't super involved and normally just glanced over emails or deleted them, but something about the thumbnail got my attention—I was probably procrastinating or something. Anyway, I watched the video and seeing our students really moved me. I had no real experience in education, the logistics of the mission made no sense for my plans in life, and I figured that I was super unqualified for the position, but something really resonated with me. I just thought: Wow, I can see myself there. That's something I could do. I could serve in that way. It didn't make any sense, but I went out on a limb and reached out to Seton that day to learn more.
Virtue Matters
Jake: So, Shannon, you had this experience of our mission before joining, what's it like transitioning to Seton Teaching Fellows after having spent a year studying Brilla's character formation.
Shannon: I'll say, most of the knowledge I had of Brilla is not anything I have used that much. I was familiar with paperwork and knew what our handouts look like, but that doesn't really impact my role as a teacher or catechist. I learned a lot during onboarding and that really carried over into my work more than anything. I will say, it's cool knowing about our character formation, and that things like community circles are something we do in our homerooms, and that we teach character and virtue during the school day. It's great to see those practices in action.
What really surprised me though, is how important El Camino is to character formation. It's really difficult to separate character and virtue formation between El Camino and the Brilla school day, at least as far as measurements, because El Camino makes such a big impact. Brilla character formation is great, but they're so intertwined. I don't know what students think, but at least from a teacher perspective, El Camino makes a huge difference. 
Jake: Well, our families say the same thing. Almost 80% of our parents say that their child is growing in character through El Camino. 
Shannon: Yea, I'm sure. It's also just good to see the schools in person, which I hadn't been able to do during the pandemic.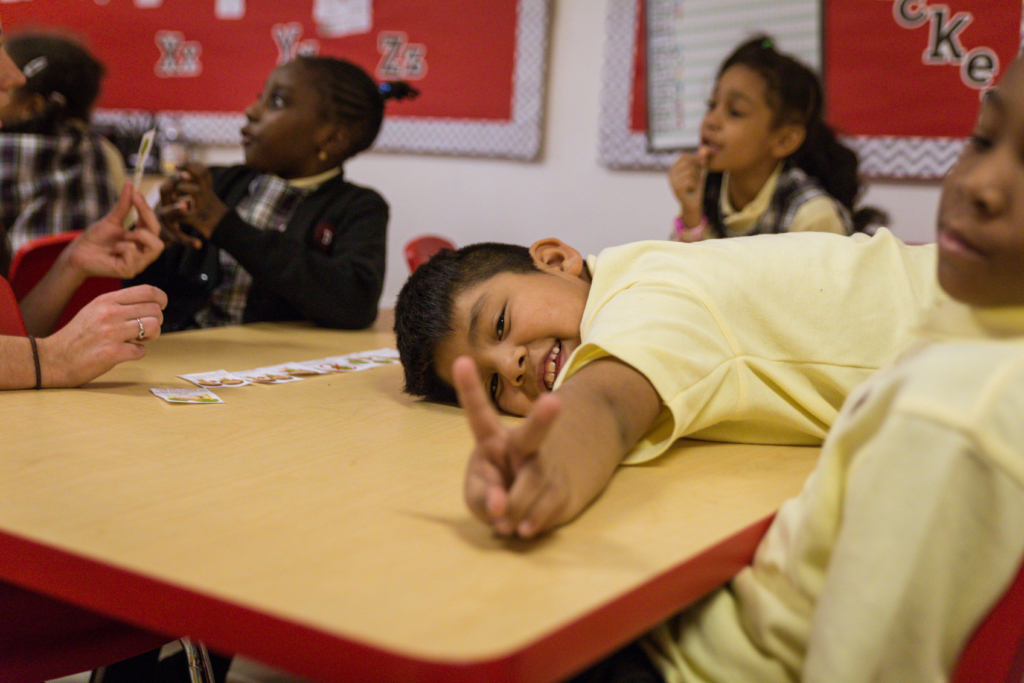 Where's God in All of This?
Jake: So, that kind of covers how you ended up here, Shannon. Now that you've been serving for a semester, I'm wondering if you have any reflections from your time as a Seton Teaching Fellow—where has God been working in your life since you started as a missionary?
Shannon: Hmm. That's a good question . . . I guess, more concretely than ever before, I've had to tell myself that God is good. This isn't the case at the moment—because there's plenty of joy and consolation in this year of service—but there are definitely times where I've been challenged and I think: this is hard, this stinks. I have to concretely remind myself that God is good, that God challenges us for a reason and that he's not just being mean to me!
That's really important to know, especially because I'm in a place with such good support. For me in particular, my community has been really good this year. It's this great reminder that God is good, and I see Him in community.
Another way that I've been seeing God this year is generally through people. Honestly, before this year, I was not good at seeing God in others. I guess because of my relationship with Him and how I've seen Him in the past, I've always been able to witness God in the Eucharist. I see Him at Mass. I find Him in prayer. But honestly, unless I met someone who I thought was super holy, I didn't see God in them.
I've been challenged this year—and it's sort of a rational thing—to see people as Christ. Even someone who isn't baptized, or who I struggle to connect with or serve. I've learned through formation to grow as Christ the Teacher this year. Community and formation have helped me understand that I don't have to see the perfect Christ in everyone, but I know that he is here, that he is present in everyone.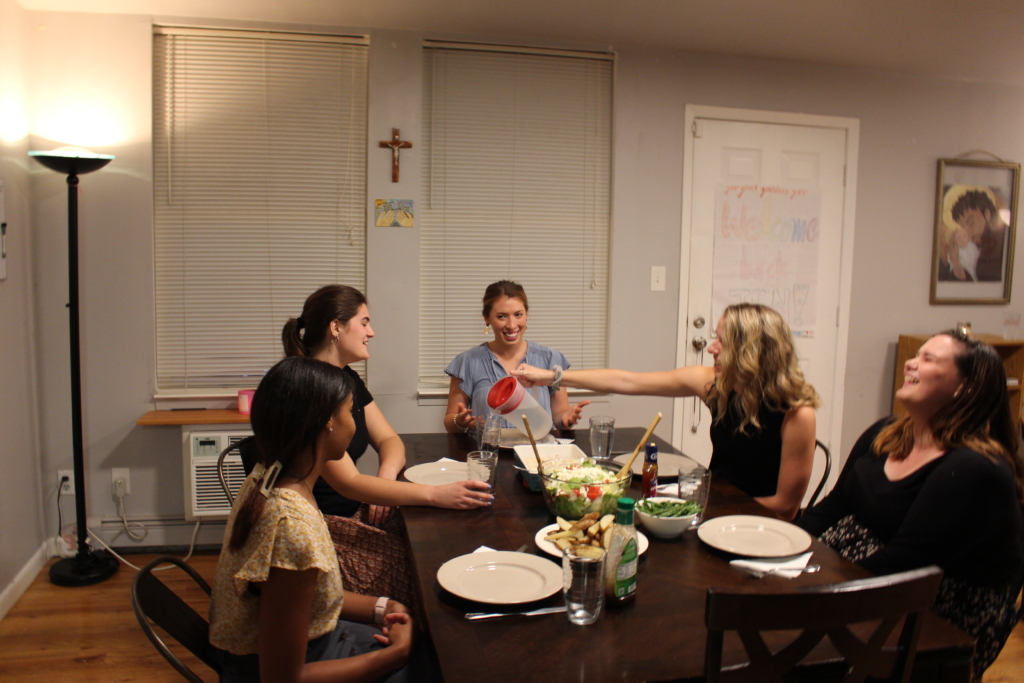 Jake: Oh, yea, He's here.
Shannon: Other than that? Um, this year has really pushed me to love . .  (Laughs) and not perfectly! It's simple things. Like, love is me choosing to put on a smile before I go into the classroom. Love is me choosing to bite my tongue and control my emotions in front of my students.
I used to look at the little things in the negative. Like, if I was going to lose my temper, I would think, "this is a bad thing," and choose not to do it. Now I'm looking at things in the positive: instead of choosing not to lose my temper, I'm simply choosing to love—if that makes sense. This year has transformed my view so that I look at love as an action, not a feeling. Right? Love is a choice. 
Jake: That's a great way to put it! Ok, last question: I'm wondering, has this year changed your view of service?
Shannon: The thing is, this doesn't really feel like a year of service. Maybe that's because it feels like a real job—I mean, it is a real job. It's like . . . well, It's not nine-to-five, (laughs) it's more like eight-to-six, but I have to show up everyday! I have to be there for my students. I'm having professional relationships. I'm receiving professional coaching. I'm held to high standards. I don't know, the view I had of service was very different, which isn't a bad thing. If you look at a mission like FOCUS or the Culture Project, a year of service just looks a lot different, and that's what I had in mind. I guess Seton Teaching Fellows has just been a really professional mode of service and that's great.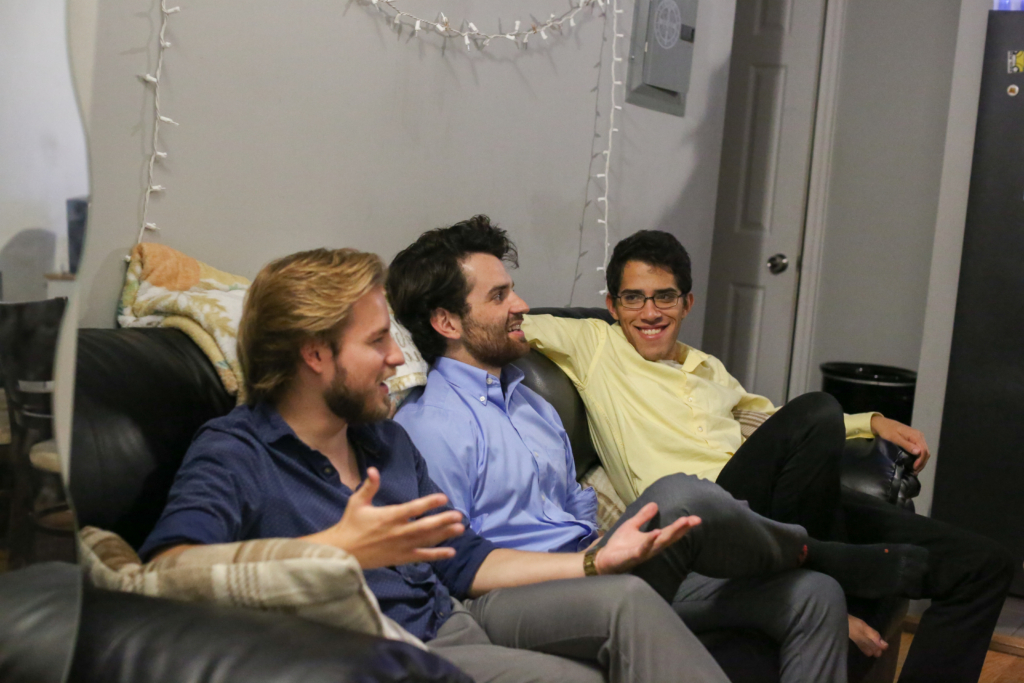 Jake: Yea, I understand. People definitely imagine removed concepts of service. The thing is, being on mission just means to be sent out. You can do that anywhere and in so many capacities. Seton Teaching Fellows live that out in so many ways: professionally, communally, spiritually. It's really a niche experience.
Shannon: Other than that, I guess I just learned that it's easy to romanticize service until you're doing it for a few months! When the reality sets in, that's where you really lean on God and try to find love.
Jake: Absolutely. Ok, Shannon, thank you so much for joining us, and thank you even more for your yes to service! We're praying for you and your disciples. Thank you for sowing those seeds and God bless you.
Interested in choosing love? Want to make a difference for students in America's inner cities? Apply to serve as an STF for the 23-24 school year today! If you have questions about what we do and what our program has to offer, reach out to our recruitment team and schedule a quick info call.