I know you studied engineering, what piqued your interest in education?
I became interested in education due to my involvement in STEM education research.
I felt dissatisfied with my undergraduate engineering experience, and after probing deeper into my experience, I found that I desired a more interdisciplinary education that had a strong relevancy to reality.
There was also a lack of ethical and social dimensions within my education, and I was shocked to see that science and math existed in a somewhat theoretical sense without connections to the meaning of the human condition. So I began to take a service-learning education class where I mentored high school freshman to create a spoken-word project on bullying.
That class introduced me to educational literature for the first time, and I wanted to see those types of questions being asked within engineering. I began more formally mentoring and supporting engineering outreach programs in various capacities, and eventually worked on my own research project about empathy as a pedagogical resource. All of these experiences pointed to the need that I saw within the larger STEM educational system
,
which was the lack of attentiveness to the realities of its students.
I saw my disciples have encounters with Jesus through prayer and the Sacraments.
What were some of the most meaningful experiences you had as an STF?
There are so many meaningful experiences like our fall and spring retreats, weekly formation nights, or meeting the family of community members!
The most influential
was
definitely leading the El Camino Sacraments class. It was such a beautiful experience
,
where I saw my disciples have encounters with Jesus through prayer and the Sacraments. To see my disciples, who are at one of the purest points of their spiritual lives, receive the embodied love of Christ was radical. The day of their First Communion, I felt like I had experienced what the kingdom of Heaven was like.
Actually, Mrs. Valle asked me to prepare the disciples before we walked into the church, and I was so caught up in emotion. The only thing I could say to them was, "remember, Jesus will be with you always." The day was so joyful, full of hope and pride, and to have my community members supporting all of the kids and supporting me was such a gift.
I think I really learned how to be present to another human person by living in community.
In what ways would you say being a STF has changed you, spiritually and professionally?
Being an STF introduced me to the experience of a truly adult Christian life of commitment and service. I grew in my spirituality to be more humble, and becoming so much more open to the grace of God to transform me to fit the needs that I was being asked to fulfill in my daily responsibilities.
In addition, to be honest, I felt like I had received a year of solid marriage preparation! Living in community and living simply allowed me to discern and freely choose the commitment I made to being a Fellow over any other attachments I carried into the year (my relationship, my family, my friendships). I had to learn to humbly put community before myself, to put my community before my relationship. I think I really learned how to be present to another human person by living in community.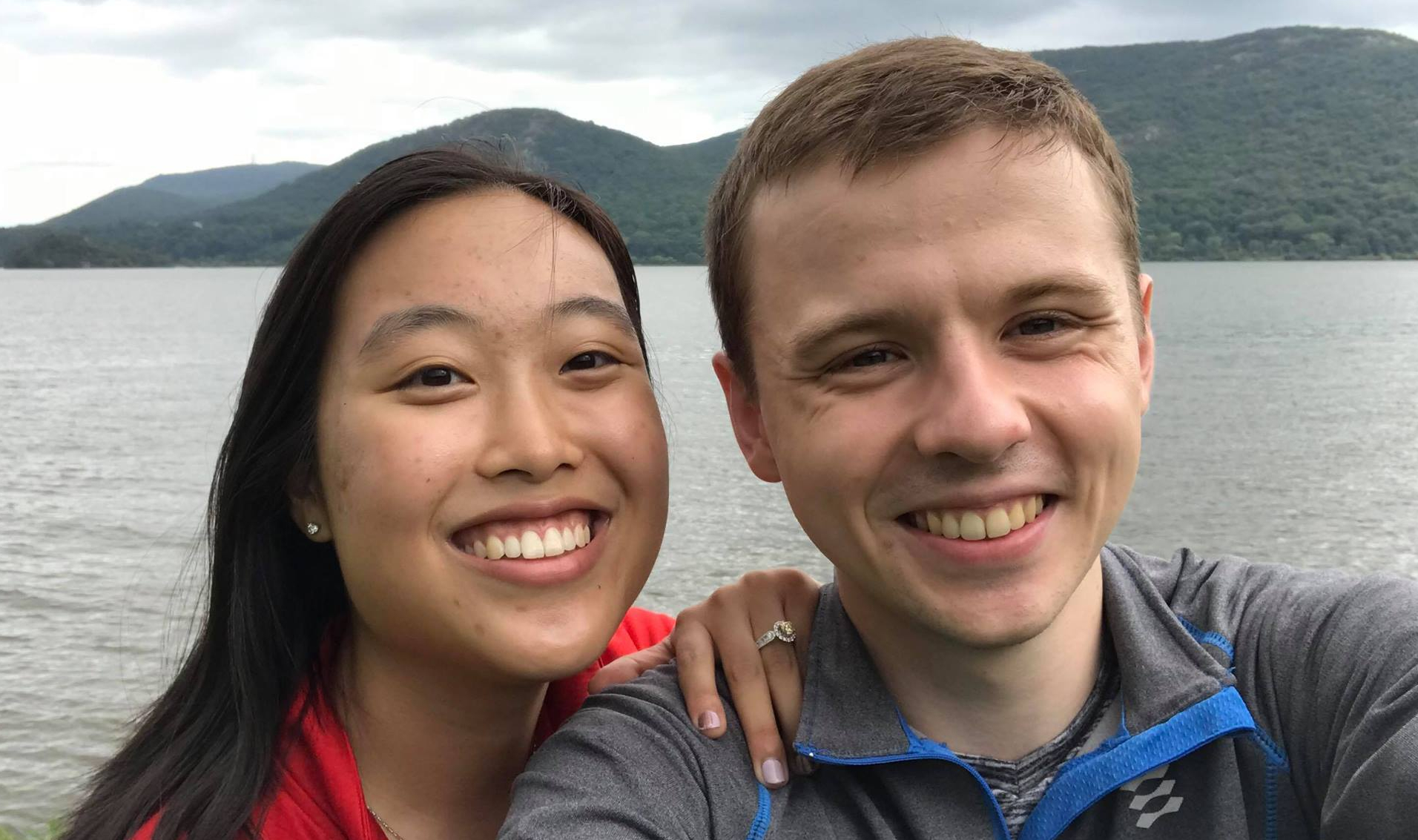 Professionally, I learned to be humble and again, be present to my grade team. To be in
a
previous position dedicated to service, I now, I hope, as a Brilla staff member will always pursue that disposition in my work, to be at the service of the school.
What motivated you to apply to stay on staff after being a Seton Teaching Fellow?
I think simply it was that I saw there was need to sustain my relationships with the staff and students in the entire Brilla network. I wanted to sustain a presence that I had committed myself to developing.
In addition, I do have a deep desire to see the Seton/Brilla mission fulfilled, and I would be honored to be a continual part of that process.
What has your transition from Fellow to a full-time Brilla teacher been like?
Honestly, being a full-time Brilla teacher is less challenging than being a Fellow. Although I arrive earlier and professionally have a different level of accountability regarding my teaching responsibilities, I get to leave at 4:15 PM and I'm not living in community (this is not in any way to diminish the authority of being a Brilla teacher).
I remember last year, I would be teaching different subjects during the day, then teach El Camino, then attend a community night or an El Camino staff meeting, and then come home to living in community. It was a great joy but also required a lot of sacrifice. After being an STF, I felt confident that I would be able to balance my Brilla responsibilities and pursuing graduate school part-time.
I learned to slow myself down and really take the time to be fully cognizant of the present
Our days as an STF were so full that this year as a staff member, I think that's how I am able to sustain my mindset and stamina to be in relationship with the students! I do think one unique challenge I have is that since I teach all of
the students at Brilla
Veritas
across grades K-1
, I struggled to develop relationships with all 160 scholars at the beginning of the year. It has taken lots of time and work, but I feel much more aware of each of their needs and personalities.
Obviously you're doing really well, you were just awarded Employee of the month which is a huge deal at Brilla! What has earning the distinction meant to you?
I feel really honored, and I only hope that it will give me more confidence to serve in the most authentic way possible. I think some of my biggest professional/spiritual worries involve not being authentic enough with staff members or the kids, so I saw the award as a verification that I am being authentic. I hope to continue to learn how I can grow in servant leadership for my colleagues.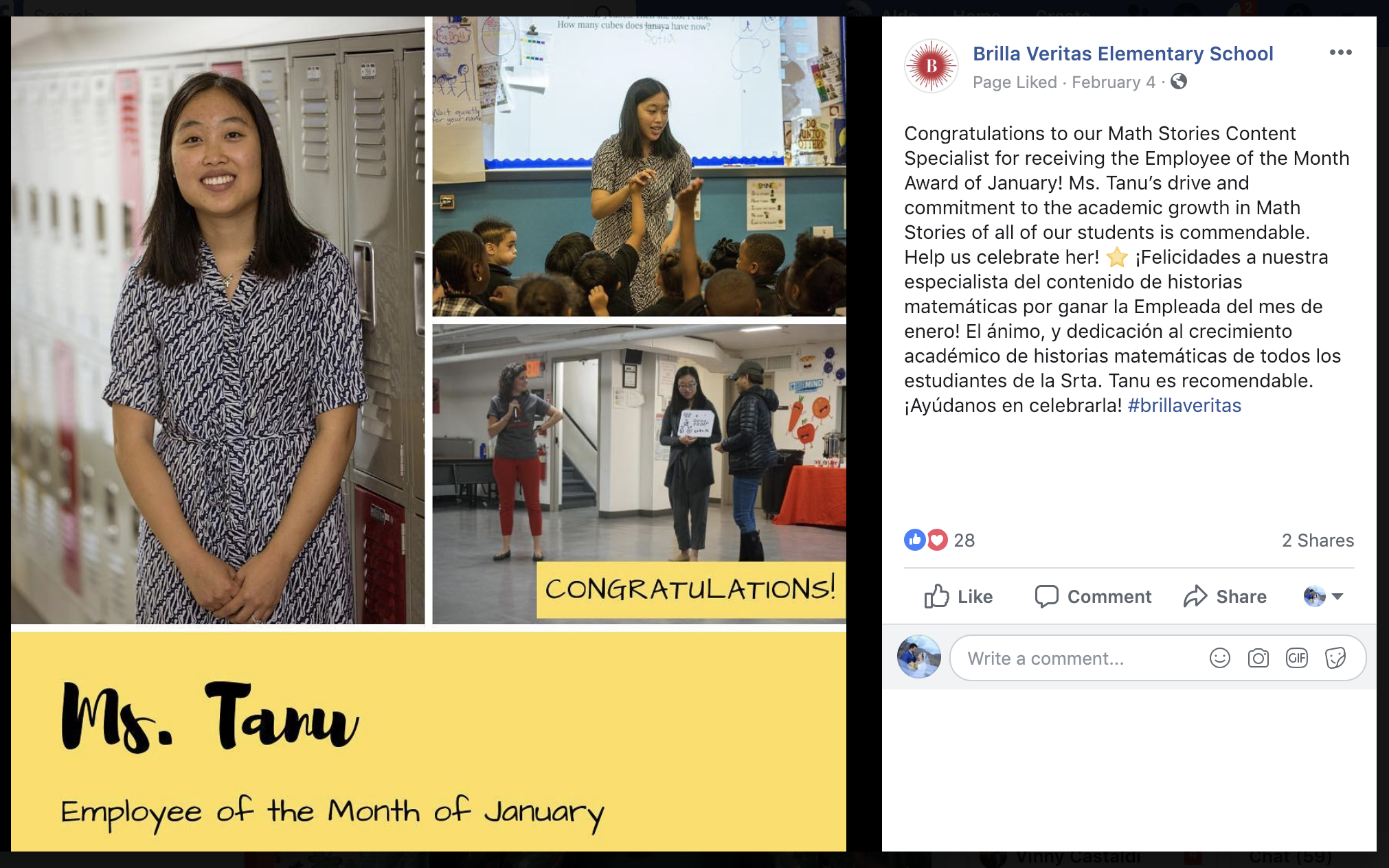 What advice would you recommend to people who want to flourish as teachers? Particularly Seton Teaching Fellows?
Some advice I would recommend is to try to slow yourself down in the classroom. I realized that I get so frantic in the moment of teaching that it leads to some feelings of lack of control or inadequacy when things are not working out the way that you want them to. I learned to slow myself down and really take the time to be fully cognizant of the present instead of focusing on a million different desires that I have (classroom management, academic goals, language, the lesson plan, etc.).
This allowed me to see what was happening in front of me and very slowly changed my disposition before the kids (moving from being anxious to anticipatory). I also learned so much from watching other teachers and adopting some of their mindsets like "assuming good will." This also allowed me to view each kid without an agenda, which can be hard with some of our most special kids.