From the mothers of scholars who walk or drive across town daily to guarantee their children receive the best possible education, to the many moms, Godmothers, and spiritual mothers on our team who consistently show up to share their wisdom, dedication, and love, it isn't a stretch to say that Seton Education Partners would not be able to fulfill its mission if it weren't for the moms who serve and support us at every level. To mark this month's celebration of Mother's Day and a year of "Celebrating 12," here are twelve ways moms have shaped Seton:
As Our Patroness
Motherhood was at the core of Elizabeth Ann Seton's identity as an educator, which has much to do with why she was affectionately known as "Mother Seton." In addition to supporting her own five children after her husband passed away from tuberculosis, Elizabeth Ann Seton was a spiritual mother to the countless children she served in her schools. She referred to her children as "the darlings" and regarded them as the inspiration for her achievements rather than as an obstacle. St. Elizabeth's own words reveal the deep joy of her mother's heart: "I am as a Mother encompassed by many children of different dispositions…bound to love, instruct, and provide for the happiness of all."
As First Educators
At Seton we believe that parents are the first educators of their children, and this core value plays a profound role in how our schools function at every level. As Aaron Brenner, general partner and chief of charter school growth for Seton, puts it, "Moms are the backbone of society and our schools are no different. They often juggle work, raising their children as the primary caregiver, being a model of faith, and they don't give up even when the obstacles are harsh and consuming. Walking with these first educators of our students is an honor and a great responsibility."
As Personal Inspiration
Many of our team members likely would not have chosen to pursue a vocation in education or the nonprofit sector had it not been for the examples of our own mothers. Some were teachers themselves or women of service who inspired us to use our gifts and talents on behalf of others. Sarah Meagher, manager of El Camino at Brilla College Prep, says her mom "always encouraged me to push myself to excellence and to rely on the Lord in all things."
As Engaged Elders
Whether it's through providing an extended family support system or sharing encouragement from afar, grandmothers have not only blessed the lives of our scholars, they have also played a role in the decision of several Seton team members to pursue a career in education.
Ruby Amezquita, director of talent for Brilla Schools Network, remembers asking her grandmother—who never learned to read or write but was an incredible storyteller—what she would have studied if she had been able to go to school. "She said she dreamed of being a teacher," says Amezquita. "It stayed with me and I often think about how badly she wanted to be educated and learn. I wish she could have, and I was determined to do what I could to help others."
Tess Lane, director of talent and recruitment for the Brilla Schools Network and Seton Teaching Fellows, says that her grandmother's vocation as a social worker for pro-life nonprofits serving vulnerable women provided her with an example of "tireless service" and "a beautiful sense of the feminine genius."
As Godmothers
Given that they provide living models of faith, it is no surprise that many of the teachers, staff, and Fellows working in our Catholic schools and programs are asked to be their students' Godmothers at their baptisms. Take Yeime Valle, chief of programs for El Camino Network and Seton Teaching Fellows, who is the Godmother for over fifty children! Or Jenny Kubrick, STF alum who is the Godmother for three children in this beautiful family. Of her role in the lives of these children, Kubrick says that it is "a privilege to know she will be able to walk with them in a really intentional way."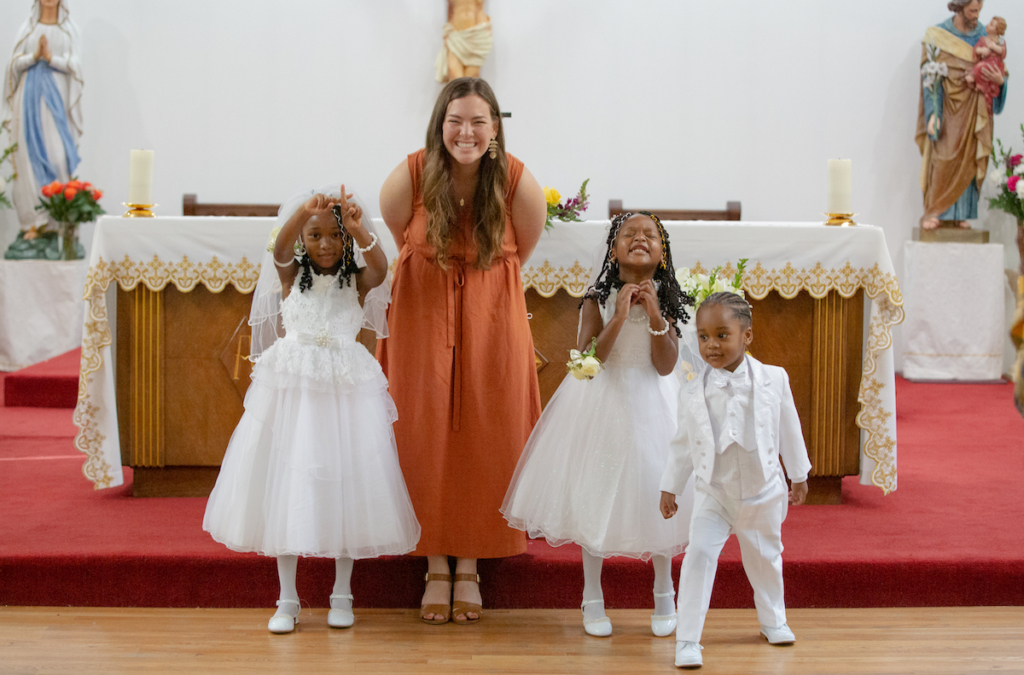 As Spiritual Mothers
Motherhood and the work of education require many similar gifts and dispositions, so in a way, all the women who work in education serve as "spiritual mothers" who provide children with wisdom, nurturing, and loving attention.
There are also many religious sisters who bless Seton as spiritual mothers with their faithful prayers. For example, the Sisters of Life, who often provide spiritual mentorship to our Seton Teaching Fellows, also serve among our families in the South Bronx as an expression of their commitment to the inherent dignity and sacredness of human life.
As Joy-Filled Communicators
All children long for their mother's eyes to light up when they walk into a room. Imagine if every child was greeted with a warm smile and similar welcome when they walked into their school. Mrs. Aziel Cordero, operations associate at Romero Academy at Resurrection, gives scholars and their families this kind of heartfelt welcome, providing them with critical communication and connection in both English and Spanish. Tom Loughead, Principal at Romero, says that "As the mother of three young boys, Mrs. Cordero leverages her maternal instincts and gifts to support Romero students on a daily basis. She intuitively knows when a student genuinely needs love and compassion or simply just a listening ear."
As Intercessors and Models of Love
From the supreme model of motherhood, Mary, Mother of Jesus, to St. Gianna Molla, the Italian pediatrician and mother of four (who is also the patroness of Ms. Pelicano's seventh-grade El Camino class!), the saints provide our disciples with hopeful examples of how women throughout the ages have used their diverse gifts for the good of the world.
Another saint granted the title of "mother" who has greatly influenced Seton's mission is St. Teresa of Calcutta and her Sisters of Charity (who also serve our families in The Bronx). Mother Teresa's advice to mothers is truly wisdom for us all: start with small acts of service right where you are; find joy in simplicity; and view every human being, most especially children, as people we are called to love.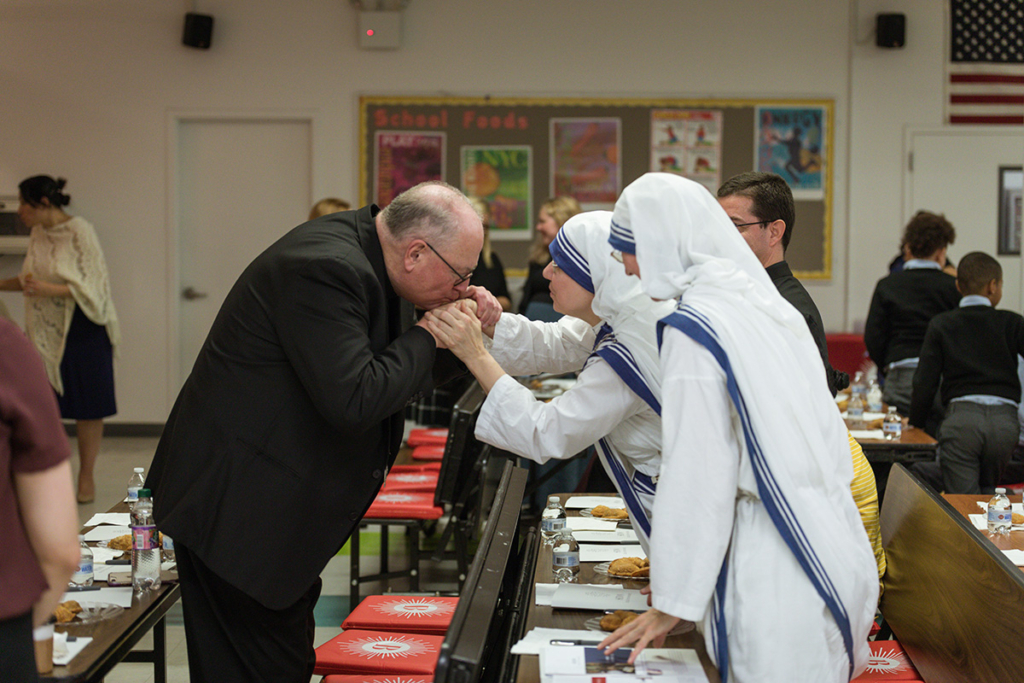 As Vibrant Teachers and School Leaders
Many of the teachers at Seton schools and nearly half of the women on our staff are mothers, and from their motherhood flows a special gift—the ability to see their own children in the faces of every child they serve. Kelsey LaVigne, chief of schools for Brilla Schools Network, describes how becoming a mother, "provides perspective on what really matters. I feel even greater conviction about our holistic model" of education.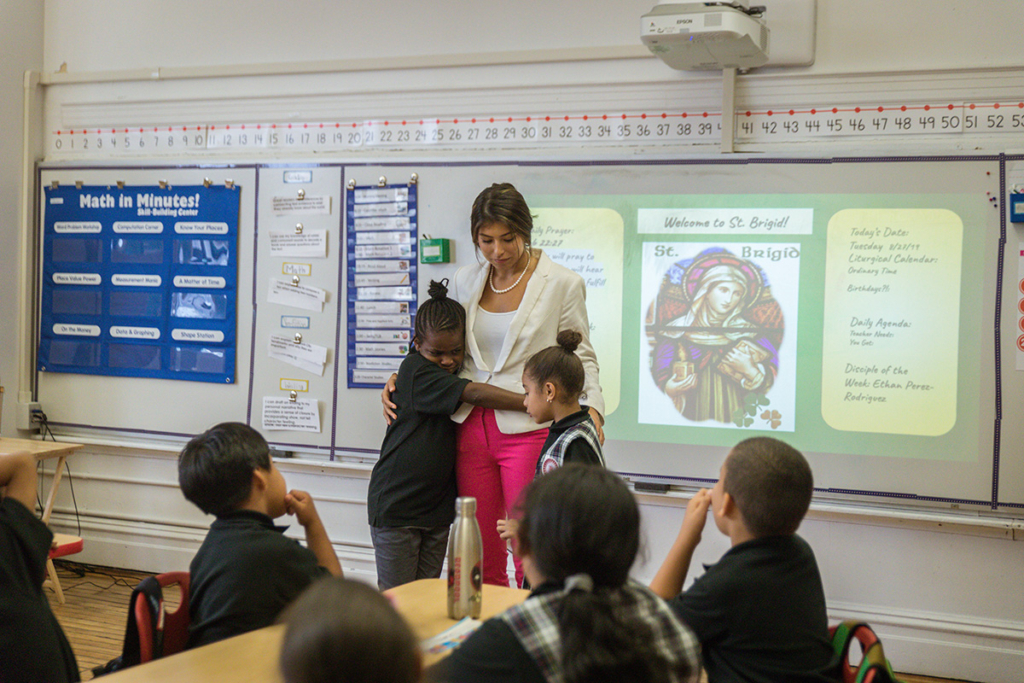 As Passionate Advocates
Who is a better advocate for their child's education than a mother? Margaret Nieto, alumni manager for Seton's Blended Learning Network, believes that "Mothers advocate for their children in a way no one else can. I've seen mothers push schools to be better…to offer more opportunities and hold them accountable to their word." We are grateful for the engagement and involvement of so many passionate mothers of scholars in our schools. When we are able to connect and partner with them is when we truly see their children thrive!
As Colleagues of Character
Having so many mothers on the Seton team affects the overall culture of the organization and our partnership schools. Shanelle County, director of elementary content for Brilla Schools Network, describes how the way she views education has been shaped by "the mothers whom I call colleagues. They show up with passion and vigor, unapologetically," working tirelessly to create the kind of education environment they would want for their own children.
As Creative Innovators
Seton's co-founder and managing director, Stephanie Saroki de García, is a proud mom of two whose own mother showed her that "you can nurture a family while also sharing your gifts with the world." Stephanie believes that her vocation as a mother has a direct impact on her leadership role within Seton: "Being a mom reminds me what I want for all of Seton's children—an opportunity to live up to their God-given potential."