Rebecca Morris is a current Cohort 8 and former Cohort 7 Seton Teaching Fellow based in the South Bronx. The summer after graduating from the of the University of Dallas and before arriving in the South Bronx to begin her first year of mission, Becca was working at the Guadalupe Catholic Radio Call center. There, she found an unexpected gift that would end up being a legacy for fellows to come.
In 1987, Pope St. John Paul the II left his home in the Vatican to make a visit to San Antonio, Texas. With such an honored guest, the city wanted to give out something to those who came to see him. They commissioned a beautiful print of Our Lady of Guadalupe to be made in Mexico and sent to San Antonio. Most of these gold and white renditions of Our Lady made it in time to be blessed by JPII and given out. However, there was one pallet that didn't make it through customs. Since these prints came after the visit, they were stored in the back of Guadalupe Catholic Radio and hadn't been touched since. Until a graduate, about to embark on a mission year as a Seton Teaching Fellow, offered to help her mom out at the radio call center. As I was looking through some old paperwork to see how I could help, I found these posters. Curious, I asked the general manager where they had come from, and he explained this story to me.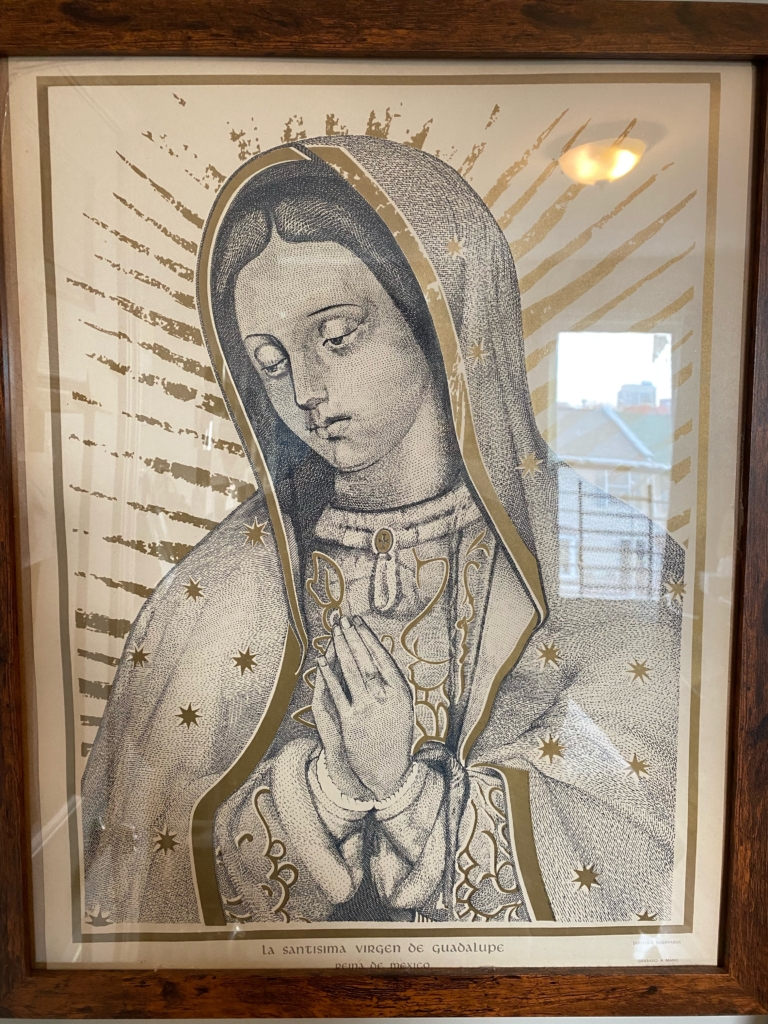 Our Lady has always meant a great deal to me, she is beloved in my city, and the science and wonder behind the existence of the Tilma has always fascinated me. It is a constant reminder of God's love, his mother's love and the beauty and Truth that leads us to an existence that is bigger than our own little world. That summer, around the time that I found those posters, we also had begun a Seton Teaching Fellows Book Club, reading a book called "Our Lady of Guadalupe: Mother of the Civilization of Love" by Carl Anderson and Eduardo Chavez. The book took a deep dive into the miracles around the apparition of Our Lady on Tepeyac. I asked if I could keep one of the posters, and the manager said I could take as many as I wanted, which sparked an idea. I emailed Tess Lane, National Director of Talent & Recruitment for Seton, later that day to see if it was possible to send a poster to each member of Cohort 7 before our arrival in the Bronx. Our Lady of Guadalupe had been a major part of our journey, and I knew that she would continue to bless our year. I got an eager "yes" and sent them on their way to Tess before I left San Antonio for the Bronx. The posters were not able to be delivered in time to each individual Fellows' home before they left for the Bronx, but they were received as a gift a month or so into our mission. Each household has many of them hung, even this year. Though most of this current cohort, Cohort 8, don't know the origins of these posters, which are left over in the Bronx apartments from last year, they know the love that Our Lady represents. Her words that she spoke to St. Juan Diego all those years ago come back to me now, "my little one, where are you going?" She is a healthy reminder that even in this time of impossibles as a second-year fellow, these years that have challenged me like no other, my trust must be in my Our Lady and my God to constantly call me back to the path I should be on, to continue forward and be their love here in the South Bronx.