Chief Formation Officer Deputy & Executive Director, Brilla Paterson, Brilla Schools Network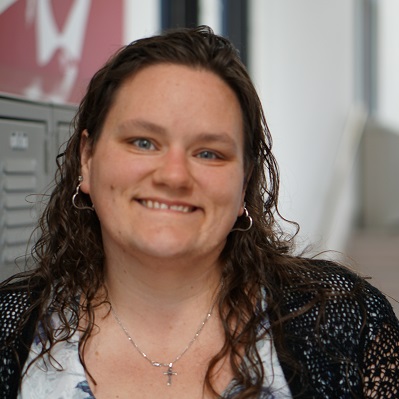 I must enter into all that I do with a spirit of love.
- San Miguel Febres Cordero
Jolleen Wagner is the chief formation officer and deputy executive director, Brilla Paterson for the Brilla Schools Network. In this role, she works to expand that space where service, community, and justice overlap. Most recently, Jolleen served as a second grade teacher at Brilla College Prep. Jolleen began her career serving as a Lasallian Volunteer and teacher at San Miguel School in Chicago. She then served as the associate director and director of the Lasallian Volunteers', where she established the vision for the faith-based, long-term, volunteer program that provides education and social services to underserved communities. In addition to her work for Lasallian Volunteers, Jolleen worked with the De La Salle Christian Brothers to evaluate and develop faith formation programs, design and lead immersion trips, and facilitate faith, service, and community events globally. She is also a member of the International Council of Young Lasallians and the chair of the Regional Young Lasallian Committee, where she supports the future of the mission of the De La Salle Christian Brothers. A native of Green Island, New York, Jolleen graduated with a bachelor of arts degree in English from Siena College in 2004, where she was honored as a distinguished alumni in 2014 with the Franciscan Spirit Award. She is currently pursuing a master's degree in character education through the University of Birmingham, UK.
Aaron Brenner
❘
Ale Slingerland
❘
Alexandra Burchfiel
❘
Ali Apfel
❘
Ana Vasquez
❘
Andrew Ketchum
❘
Ashley Del Rosario
❘
Catherine Birri
❘
Charles Bozian
❘
Christina Reyes
❘
Christine Warner
❘
Claire Dwyer
❘
Clare Fay
❘
Colleen Vaughn
❘
Cynthia Valencia
❘
Daniel Palombo
❘
David Mata
❘
David Morales
❘
Elizabeth Reckart
❘
Elliot Hachey
❘
Emilia Chornay
❘
Emily Brooks
❘
Emily Gilbride
❘
Emma Matheson
❘
Evan Vautour
❘
Fr. Mark Haydu
❘
Hannah Lafiosca
❘
Jack Morgan
❘
Jacob Coonradt
❘
Jenny Garcia
❘
Jenny Kibrick
❘
Jessica Lovinsky
❘
Jill Limongi
❘
Joe Dobrynski
❘
Jolleen Wagner
❘
Juliana Odame-Arhin
❘
Kate Myers de Vega
❘
Katie Hernandez Akers
❘
Kayla Keller
❘
Kenneth Burchfiel
❘
Kevin Hanratty
❘
Laura Barron
❘
Lena McGovern
❘
Logan Amster
❘
Margaret Rippe
❘
Maria Valencia
❘
Mariela Gratero
❘
Mary Grace Lewis
❘
Matt Salvatierra
❘
Michael Carbone
❘
Olivia Lang
❘
Patrick Sitzer
❘
Rachelly Crime
❘
Reyes Claudio
❘
Ruby Amezquita
❘
Sandra Céspedes
❘
Shanelle County
❘
Stephanie Frias
❘
Stephanie Montero
❘
Stephanie Saroki de García
❘
Tanicqua Pryor
❘
Tess Lane
❘
Tony Crnkovich
❘
Trevor Sorensen
❘
Yeime Valle
❘
Zoranlly Burgos
❘