Chief Operations and Community Relations Officer, Brilla Schools Network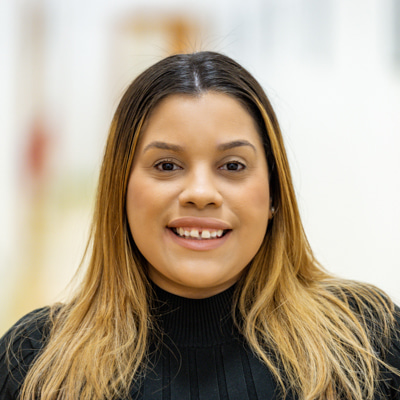 We always find that those who walked closest to Christ were those who had to bear the greatest trials.
- St. Teresa of Avila
Reyes Claudio serves as the chief operations and community relations officer for the Brilla Schools Network. She is a proud Bronx native, having grown up in the northern part of the Bronx and the product of a strong Catholic education. Today, Reyes lives in the Bronx, is happily married, and the mother of four wonderful children. Her two school-aged children have attended Brilla College Prep for the past six years! Reyes has been at Brilla for seven years. She began her career as an operations associate at the flagship campus, Brilla College Preparatory Elementary, and has taken on various operating roles throughout the years. Today, in her role as the chief operating officer for the Brilla Schools Network, she oversees the network operations and enrollment team. Collectively they share the responsibility of coaching, guiding, and supporting all our school based operations teams. This is done with strategic growth, constant innovation, and a strong "one school" mindset in service of our mission. She is honored and grateful to serve a community that formed who she is today!
Aaron Brenner
❘
Ale Slingerland
❘
Alexandra Burchfiel
❘
Ana Vasquez
❘
Andrew Ketchum
❘
Ashley Del Rosario
❘
Catherine Birri
❘
Cathy Costigan
❘
Charles Bozian
❘
Christina Reyes
❘
Christine Warner
❘
Claire Dwyer
❘
Clare Fay
❘
Colleen Vaughn
❘
Cynthia Valencia
❘
Daniel Palombo
❘
David Mata
❘
David Morales
❘
Elizabeth Reckart
❘
Elliot Hachey
❘
Emilia Chornay
❘
Emily Brooks
❘
Emily Gilbride
❘
Emma Matheson
❘
Evan Vautour
❘
Fr. Mark Haydu
❘
Hannah Lafiosca
❘
Jack Morgan
❘
Jacob Coonradt
❘
Jenny Garcia
❘
Jenny Kibrick
❘
Jessica Lovinsky
❘
Jill Limongi
❘
Joe Dobrynski
❘
Jolleen Wagner
❘
Juliana Odame-Arhin
❘
Kate Myers de Vega
❘
Katie Hernandez Akers
❘
Kayla Keller
❘
Kenneth Burchfiel
❘
Kevin Hanratty
❘
Laura Barron
❘
Lena McGovern
❘
Logan Amster
❘
Margaret Rippe
❘
Maria Valencia
❘
Mariela Gratero
❘
Mary Grace Lewis
❘
Matt Salvatierra
❘
Michael Carbone
❘
Olivia Lang
❘
Rachelly Crime
❘
Reyes Claudio
❘
Ruby Amezquita
❘
Sandra Céspedes
❘
Shanelle County
❘
Stephanie Frias
❘
Stephanie Montero
❘
Stephanie Saroki de García
❘
Tanicqua Pryor
❘
Tess Lane
❘
Tony Crnkovich
❘
Trevor Sorensen
❘
Yeime Valle
❘
Zoranlly Burgos
❘