Chief Operating Officer, Brilla Schools Network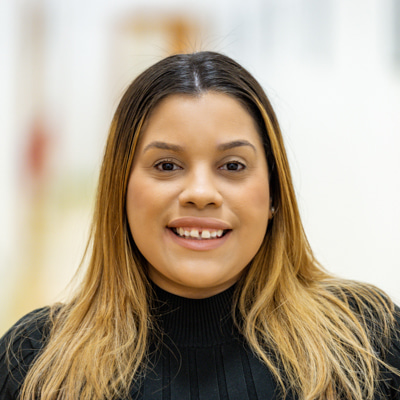 We always find that those who walked closest to Christ were those who had to bear the greatest trials.
- St. Teresa of Avila
Reyes Claudio serves as the chief operating officer for the Brilla Schools Network. She is a proud Bronx native, having grown up in the northern part of the Bronx, and is grateful to be the product of a strong Catholic education. Today, Mrs. Claudio lives in the South Bronx, is happily married, and the mother of four wonderful children. Her two school-aged children attend Brilla College Prep! Mrs. Claudio has been at Brilla for nearly six years. She began her career as an operations associate at the flagship campus, Brilla College Preparatory Elementary (BCPE), and has taken on various roles in the operations department. Today, in her role of COO for the Brilla Schools Network, she oversees an operations lead at each of the schools, the network operations coordinator, and the enrollment and outreach managers.
[Former Employee] Jeff Kerscher
❘
[Former Employee] Robert Alexander
❘
Aaron Brenner
❘
Alexa Bonilla
❘
Amanda Zingone
❘
Brett Chappell
❘
Cecilia Gallagher
❘
Christina Reyes
❘
Dan Faas
❘
Danielle Schirripa
❘
David Morales
❘
Elizabeth Reckart
❘
Emilia Chornay
❘
Emily Brooks
❘
Emily Gilbride
❘
Fr. Mark Haydu
❘
Gisell Sierra
❘
Isabella Gadapee
❘
Jen Gowers
❘
Jolleen Wagner
❘
Kayla Keller
❘
Kelsey LaVigne
❘
Korleen Cosgrove
❘
Leonard Francisco
❘
Luanne D. Zurlo
❘
Margaret Nieto
❘
Maria Valencia
❘
Mark Kreider
❘
Mary Catherine Lancaster
❘
Matt Gaimari
❘
Matt Salvatierra
❘
Michael Carbone
❘
Michelle Lacouture Perry
❘
Navil Acevedo
❘
Peter Katcher
❘
Rachel Marchand
❘
Reyes Claudio
❘
Ruby Amezquita
❘
Sarah Meagher
❘
Shanelle County
❘
Stephanie Frias
❘
Stephanie Saroki de García
❘
Tess Lane
❘
Trevor Sorensen
❘
Yeime Valle
❘