Curriculum Manager, Brilla Schools Network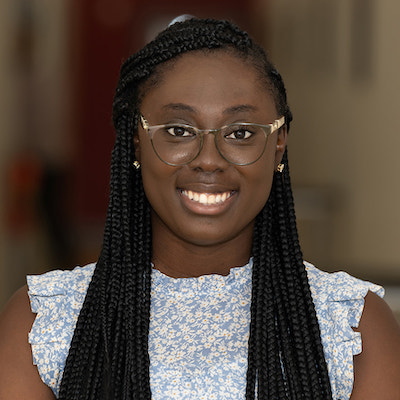 Our deepest fear is not that we are inadequate. Our deepest fear is that we are powerful beyond measure.
- Nelson Mandela
Juliana Odame-Arhin is the curriculum manager for the Brilla Schools Network. She was born in New York, but was raised in New Jersey. Fitting as a true Jersey girl, she attended Rutgers University and graduated cum laude with a B.A. in political science and communication. Her love for education inspired her to become a 2016 Teach for America corps member. She then received her Master's degree from the Relay Graduate School of Education. Within her five years at Brilla College Prep Elementary, Juliana taught third- and fourth-grade and served as the Nonfiction Studies Content Lead. Currently, she is seeking her doctorate in Curriculum and Instruction at Fordham University. In her free time, she loves to read, write and spend time with family and friends.
Aaron Brenner
❘
Adriana Lira
❘
Ale Slingerland
❘
Alejandro Uribe
❘
Alexandra Cohill
❘
Ana Vasquez
❘
Andrew Ketchum
❘
Ashley Del Rosario
❘
Billy Bludgus
❘
Brett Chappell
❘
Cathy Costigan
❘
Christina Reyes
❘
Christy Mencia-Penalo
❘
Claire Dwyer
❘
Colleen Vaughn
❘
Dan Faas
❘
Daniel Palombo
❘
David Morales
❘
Derek Lyssy
❘
Douglas Minson
❘
Elizabeth Reckart
❘
Elliot Hachey
❘
Emilia Chornay
❘
Emily Brooks
❘
Emily Gilbride
❘
Fr. Mark Haydu
❘
Jack Morgan
❘
Jacob Coonradt
❘
Jenny Garcia
❘
Jenny Kibrick
❘
Jessica Lovinsky
❘
Jolleen Wagner
❘
Juliana Odame-Arhin
❘
Katie Hernandez Akers
❘
Kayla Keller
❘
Kellie Pairan
❘
Kenneth Burchfiel
❘
Kevin Hanratty
❘
Lena McGovern
❘
Logan Amster
❘
Luanne D. Zurlo
❘
Margaret Rippe
❘
Maria Valencia
❘
Mariela Gratero
❘
Mark Kreider
❘
Mary Grace Lewis
❘
Matt Salvatierra
❘
Olivia Lang
❘
Rachelly Crime
❘
Reyes Claudio
❘
Ruby Amezquita
❘
Shanelle County
❘
Stephanie Frias
❘
Stephanie Montero
❘
Stephanie Saroki de García
❘
Tess Lane
❘
Trevor Sorensen
❘
Yeime Valle
❘