Director of Staffing, Seton Teaching Fellows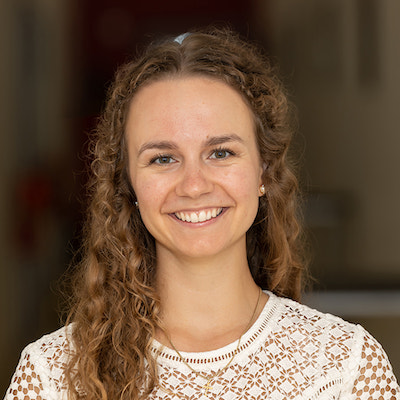 Education aims not only to communicate facts, but also to transmit a coherent, comprehensive vision of life, in the conviction that the truths contained in that vision liberate students in the most profound meaning of human freedom.
- St. John Paul II
Kayla Keller is director of staffing for Seton Teaching Fellows. As such, she supports Seton's mission by seeking out well-formed persons to serve the scholars and families at Seton Network Schools as Seton Teaching Fellows. Kayla joined the talent and recruitment team after serving as a Seton Teaching Fellow in the South Bronx, where she came to know and love Seton's mission in concrete ways. She deeply appreciates Catholic education and its inextricable ties to community and faith, formed particularly during her time at the University of Mary in Bismarck, North Dakota, which she earned her bachelor of science degree in biology. Kayla delights in exploring the wonders of New York City with friends, enjoying nature and books, and spending time at home with her friends, family, and dog in the great state of North Dakota.
Aaron Brenner
❘
Ale Slingerland
❘
Alexandra Burchfiel
❘
Ana Vasquez
❘
Andrew Ketchum
❘
Ashley Del Rosario
❘
Catherine Birri
❘
Cathy Costigan
❘
Charles Bozian
❘
Christina Reyes
❘
Christine Warner
❘
Claire Dwyer
❘
Clare Fay
❘
Colleen Vaughn
❘
Cynthia Valencia
❘
Daniel Palombo
❘
David Mata
❘
David Morales
❘
Elizabeth Reckart
❘
Elliot Hachey
❘
Emilia Chornay
❘
Emily Brooks
❘
Emily Gilbride
❘
Emma Matheson
❘
Evan Vautour
❘
Fr. Mark Haydu
❘
Hannah Lafiosca
❘
Jack Morgan
❘
Jacob Coonradt
❘
Jenny Garcia
❘
Jenny Kibrick
❘
Jessica Lovinsky
❘
Jill Limongi
❘
Joe Dobrynski
❘
Jolleen Wagner
❘
Juliana Odame-Arhin
❘
Kate Myers de Vega
❘
Katie Hernandez Akers
❘
Kayla Keller
❘
Kenneth Burchfiel
❘
Kevin Hanratty
❘
Laura Barron
❘
Lena McGovern
❘
Logan Amster
❘
Margaret Rippe
❘
Maria Valencia
❘
Mariela Gratero
❘
Mary Grace Lewis
❘
Matt Salvatierra
❘
Michael Carbone
❘
Olivia Lang
❘
Rachelly Crime
❘
Reyes Claudio
❘
Ruby Amezquita
❘
Sandra Céspedes
❘
Shanelle County
❘
Stephanie Frias
❘
Stephanie Montero
❘
Stephanie Saroki de García
❘
Tanicqua Pryor
❘
Tess Lane
❘
Tony Crnkovich
❘
Trevor Sorensen
❘
Yeime Valle
❘
Zoranlly Burgos
❘